This is the fourth and final part in the series. You can read the other articles here:
Self-driving in South Africa: Part 1 – Johannesburg to Graskop
Self-driving in South Africa: Part 2 – 19 hours in eSwatini
Self-driving in South Africa: Part 3 – Dundee and the Battlefields
Finishing my journey in style
As you'll recall, we left our hero (well, me) in Dundee at the end of Part 3. After a huge and delicious breakfast at the Royal Country Inn it was, alas, time to get moving once more.
Again, I felt that I was short-changing the area by staying just one night, but one night is better than none. I will be back, after all.
After packing my gear back into the car and leaving the hotel car park, I drove through Dundee and out onto the road west towards the Drakensburg mountains.
My first plan had been to stay at a cabin operated by the national parks, but unfortunately I had been unable to get confirmation of my booking so decided not to risk turning up and being turned away. Plan B was to spend the night at one of the many hotels and resorts in the mountains that cater both to guests aiming to go hiking and those after pure relaxation. I had a foot in each camp, as I was hoping to do a little walking and definitely going to do a whole lot of relaxing.
The journey from Dundee to Champagne Castle is straightforward – it should take no more than two hours and is just shy of 150km on excellent roads.
I settled back to enjoy myself behind the wheel. As I hope I've made clear throughout this series, driving in South Africa is a fantastic experience. The main roads at least put many in Europe to shame but don't drive too fast or you'll miss out on the scenery.
As well as the larger towns, Zululand is full of what used to be known as "homeland" settlements – these often large villages are not marked on most maps nor do they have names, yet they remain home to a large section of the black population. Most residents still live in traditional beehive-shaped huts and life does not appear to have changed greatly here since the end of Apartheid.
On this route I passed through Ladysmith, best known for the local group Ladysmith Black Mambazo that Paul Simon used to regain the limelight in the 1980s. However Ladysmith was also the site of yet another siege over a hundred years before in which the British were surrounded by the Boers. If you have the chance there is a good museum here but I carried on through.
Not long after crossing the far busier M3 motorway I reached the hard-to-pronounce Spioenkop. Yes, another battlefield is found here, but this is of particular note as more British soldiers lost their lives here than at any other. Hundreds of troops were buried in a mass grave here and you can view the open battlefield from the top of the hill.
Spioenkop also boasts an enormous dam that is easily seen from the road – I stopped to try to get a better view but conditions were not ideal for photographs. I then came upon a bicycle race in full swing; apparently there are several events in KwaZuluNatal each year.
By the way, I put together a quick video of the drive:

Climbing rapidly now, as I reached the crest of the hill I got my first proper look at the Drakensburg Mountains in the distance. Officially known as the Ukhahlamba Drakensburg, this is the tallest mountain range in Southern Africa and a hiker's paradise, offering everything from easy short walks to week-long treks staying in caves.
The Ukhahlamba Drakensburg ("Dragon Mountains" in Afrikaans and "Barrier of Spears" in Zulu) is a UNESCO World Heritage Site as there are over 600 sites spread throughout the range featuring more than 22,000 San rock art paintings.
After passing through Winterton, the last town of any size before the final ascent to Champagne Castle, I noticed more and more signs for hotels and resorts appearing at the side of the road. This Central Drakensburg area is extremely popular with both local and international visitors, and I even saw placards for a number of timeshare properties too.
I reached the rather imposing entrance gate of the Champagne Castle Hotel at lunchtime and the guard called reception to check my details. On finding my reservation, the barrier was raised and I drove up to the car park.
Champagne Castle Hotel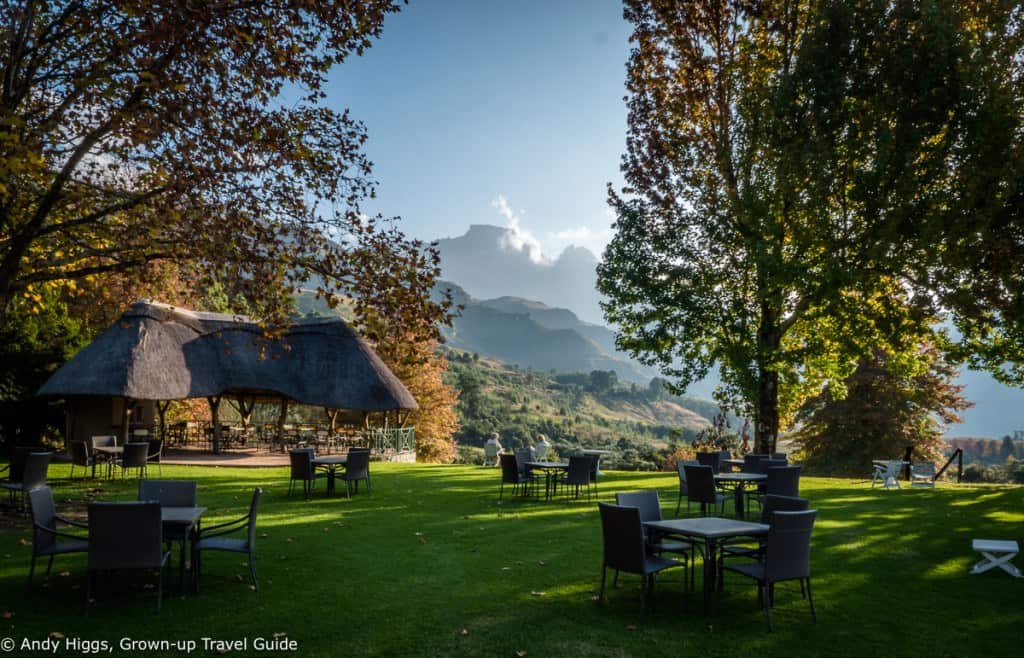 I suppose I should address the name first. The hotel takes it from the second-highest peak in South Africa and it is believed to come from an event in 1861. A certain Major Grantham made the first recorded ascent of the peak with his personal assistant (read: skivvy). The latter dropped the champers he was about to open and thus the mountain was christened.
These days the peak is the most popular viewpoint in the Ukhahlamba Drakensburg and tourism is highly developed here; hence the number of hotels on the way up (and beyond).
Popular it may be, but I doubt you'll beat this place when you're looking for accommodation.
The location is breathtaking. Almost surrounded by majestic mountains, there is a very real feeling of being in the wilderness, yet with all the modern comforts you could ask for.
Accommodation is on a full-board basis, which makes it an incredible deal (assuming you like food). I had booked a Deluxe Mountain Room to make the most of that view.
I arrived a little early, but in fact my timing could not have been better. While my room was being prepared I could partake of lunch; I would thus get the most out of my full board (not that this was planned, I should add…)
I was shown to the dining room where an extensive buffet spread awaited – the food was excellent and there was a good variety of hot and cold dishes. By the time I was done my room was ready and I went to check it out.
A short walk from the main building, my room was in a small block on the second floor. My bag had already been delivered (I left it at reception) and awaited me in the hall after I opened the door.
The room was very large and comfortable; if travelling as a family or in a group it is possible to ask for adjoining rooms with connecting doors between them.
For me (and for most couples I'm sure) there was more than enough space here though.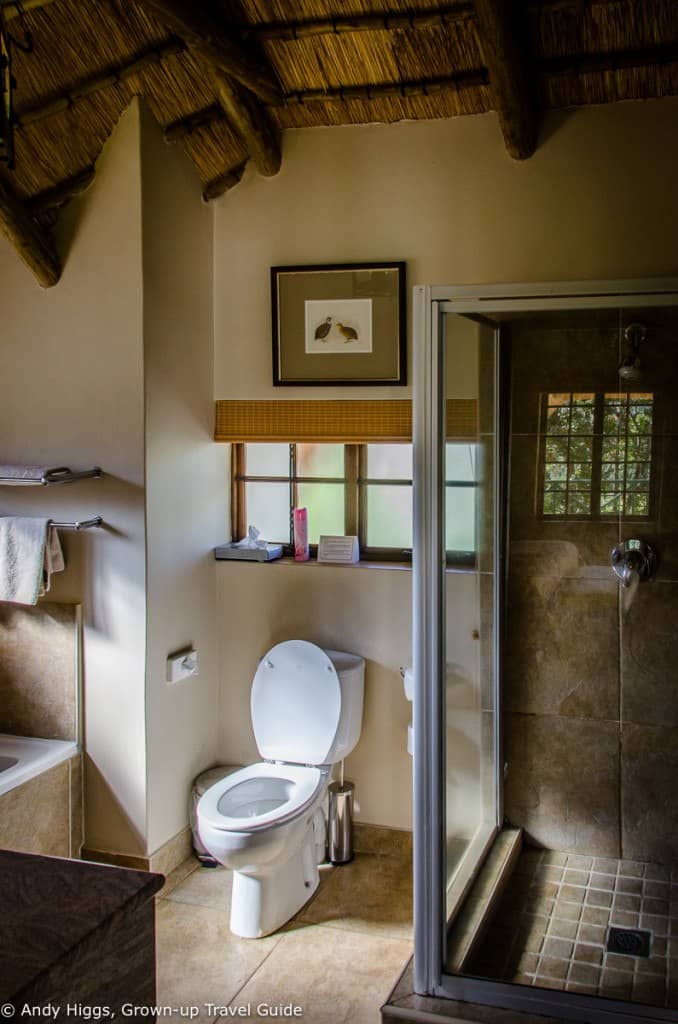 As well as a big bedroom I had a bathroom with both a bathtub and a large shower cubicle – perfect!
Proper-sized bath – yes please.
Opening the curtains revealed the magnificent view over the lawn with mountains in the near distance.
Sliding open the glass door I ventured onto the balcony – described more accurately as a patio on the website as there is plenty of space.
Autumn colours in the Drakensburg.
It's always good to have a sizeable entrance hall in hotels where outdoor activities are popular – guests need space to leave jackets and muddy boots after a hike in the hills.
There was ample storage space both here and in the room itself, as well as a safe and umbrellas to borrow should the heavens open.
A nice touch is a complimentary bottle of sherry on arrival – I should perhaps have taken the photograph before I sampled it as I see I struggled to keep it in focus…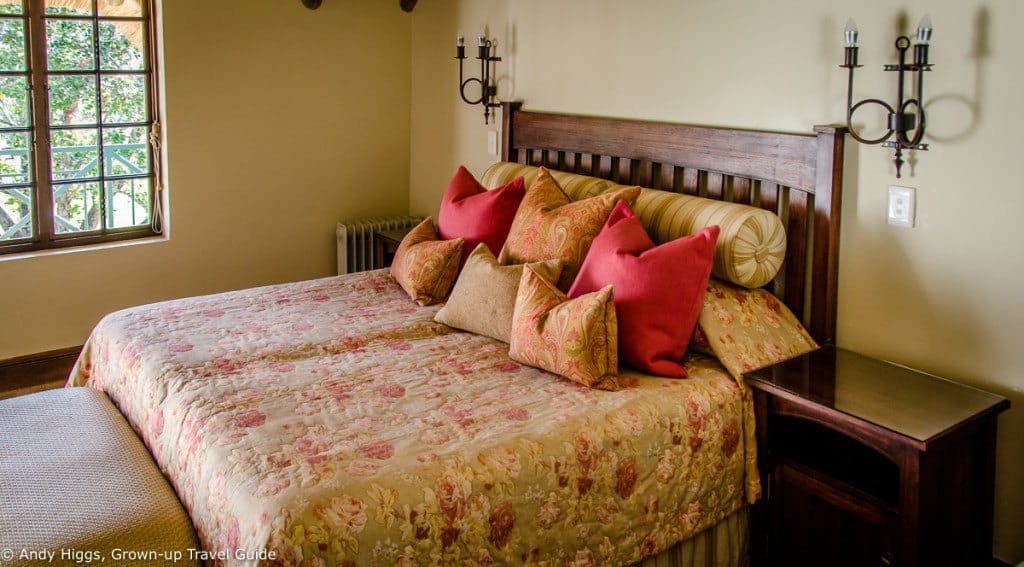 Again I noticed the South African penchant for excessive amounts of pillows and cushions; I'm not quite sure where this comes from but it seems unnecessary and I'm sure most guests end up with a pile on the floor like I did, along with the bed cover of course.
Would it not save money, time and effort to drop these items? I've yet to meet anyone who would mind…
A TV is hidden in the wardrobe facing the bed; other amenities include tea and coffee making facilities, a heater, a fan, bathrobes, a hair dryer, bathrobes, telephone and toiletries. WiFi is free and fast throughout the property.
Here's a video of the room and the grounds:

After settling in – and a glass or three of sherry – I set out to explore the rest of the hotel.
The grounds are perfectly kept and accommodation is well spread out, so it's possible to have a decent walk without even venturing outside the property.
You can probably get married here if that takes your fancy.
Champagne Castle Hotel has a good-sized swimming pool with bar service and great views. Towels are provided on each sun lounger.
I had a quick swim and dried off in the sun with a G&T before changing into walking gear and heading off on one of the trails leading from the hotel.
I didn't venture too far as the sun was already going down but I can vouch for the fact that the area is a hiker's dream.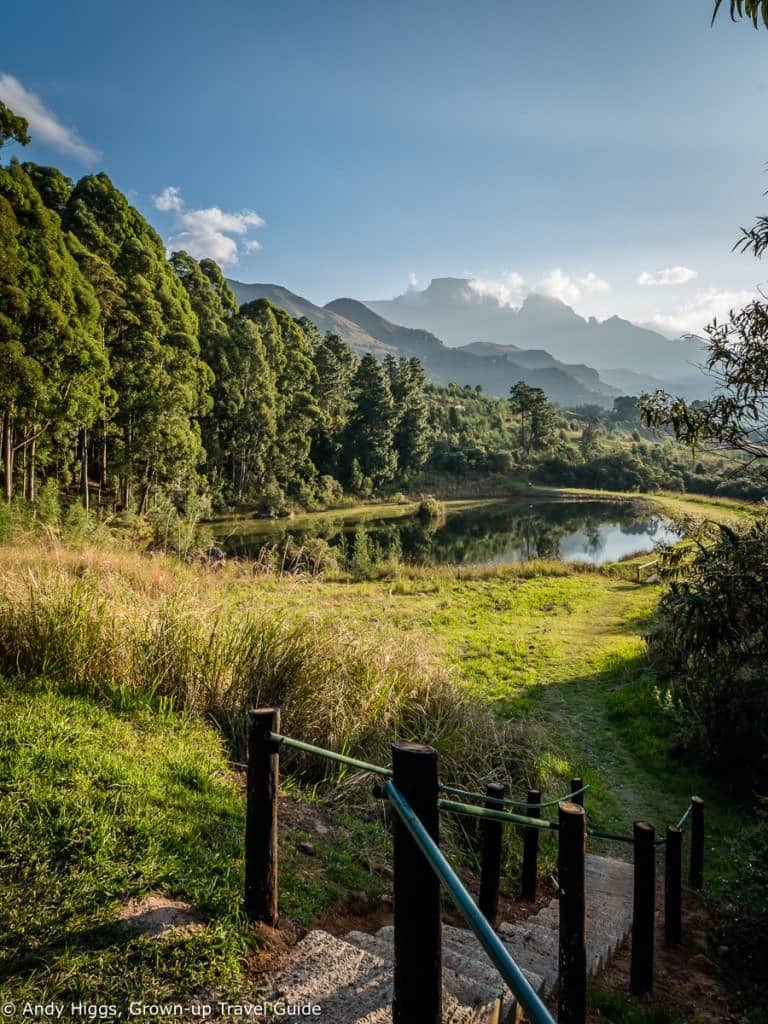 Other sporting facilities include tennis, badminton and volleyball courts, a bowling green, trout fishing and horse riding. All equipment is available for rental or you can bring your own.
The games room has a pool table, table tennis and table football. So your table-related activities are covered…
The hotel has a spa but unfortunately I was unable to get a last-minute appointment to test it out – next time!
Board games can be rented from reception or you can play outdoor chess on the oversized board near the pool.
There is also a dart board in the bar for those over 18.
An animal farm and aviary provide further distractions, especially for children.
The majority of guests come here to do at least a little hiking in the beautiful countryside, and the hotel offers complimentary guided walks at 09.15 every morning, returning for lunch. Self-guided walks are another option, with maps and descriptions available from reception. Don't forget to sign the register so a search party can be sent if you don't return.
The local area provides a wealth of additional activities – you can find more details on the hotel website but here is a list of some of the best:
The Drakensberg Boys Choir has an international reputation and performs concerts most Wednesday afternoons (except school holidays) at 3.30pm.
The Drakensberg Canopy Tour is a fun and safe eco-adventure for the whole family.
See the Drakensburg from the air by helicopter with Westline Aviation.
The Didima Rock Art Centre is an internationally renowned Bushman Interpretative Centre situated about an hour's drive from Champagne Castle.
Visit the KwaZulu Weavers Candle Factory on the way back to Winterton to see rug weaving and candle-making. A good place to buy curios as well as arts and crafts.
Battlefield Tours can be arranged via Spion Kop Lodge.
Golfers can choose between two courses, one 9 and one 18-hole, located within a short drive of the hotel.
Four Rivers Rafting Adventures offer a variety of exciting activities such as white water rafting, quad biking, abseiling, zip-lines, kloofing, mountain boarding, and Segway off-road tours.
Champagne Castle Adventure Centre is just  five minutes from the hotel and offers a large variety of exciting team-building activities such as archery, abseiling, paintball, kloofing, canyoning, white water kayaking, white water tubing/geckoing, king swing, zip-line, etc. They also have a Kiddies Adventure Park for kids aged 3-7 years (Zip-line, tree climb, paintball and target shooting).
With Drakensberg Scootours you can enjoy an exhilarating 5.4km downhill descent on a monster mountain scooter.  A free 4×4 ride takes you to the top of the hill and if you can ride a bicycle, you can give it a go.
Mountain Splendour Cycles has a purpose-built single track suitable for all abilities and ages.
For the less actively-inclined, Thokoziza Mountain Restaurant and Delicatessen is well worth a stop on the way back to Winterton. They also sell a large variety of arts and crafts and a Central Drakensberg Information Centre is found on site.
All Bushman paintings are now protected by law and visitors need to accompanied by a custodian. Champagne Castle Hotel has a small painting collection. Should you wish to view you can make arrangements with reception or the hotel's hiking guide to visit them during our scheduled daily morning walk. Alternatively, there are Bushman paintings 3km back down the road near the Dragon Peaks Park area.
Food and drink
As mentioned previously, accommodation is on a full board basis and if eating and drinking is your thing you can essentially spend almost every waking moment here fuelling your passion. All meals are buffet-style with a huge variety of dishes from which to choose.
Breakfast is from 0730 to 0930, after that you only need to hold out an hour before morning tea and cakes from 1030 to 1130. A walk might be a good idea afterwards to kill the 90 minutes before lunch, served from 1300 to 1400. I suggest a nap so that the following hour and a half doesn't drag, and then it's time for afternoon tea and cakes from 1530 to 1630. You will have to kill a whole two hours before dinner (1800 to 2130) but the bar is open, and serves snacks if you're feeling peckish…
Naturally you don't have to indulge in every meal, and I had to hop over afternoon tea as I was still full after lunch, but the option is there. You are not going to go hungry, let's put it that way.
You can also eat on the patio if weather permits and the hotel has two lounges; one casual and one formal for adults only.
There is a dress code in force after 1800 whereby shorts are not permitted and guests need to be 'smart casual'. Quite right too.
At dinner I got talking with a Scottish couple who had been living in South Africa for decades (long enough to gain citizenship and a passport). They confirmed my opinion that Champagne Castle must be one of the best places in the Drakensburg as they had stayed at several other hotels over the years but this was the finest.
I slept like a log and woke to a stunning sunrise before a healthy breakfast and a quick walk to shake it down.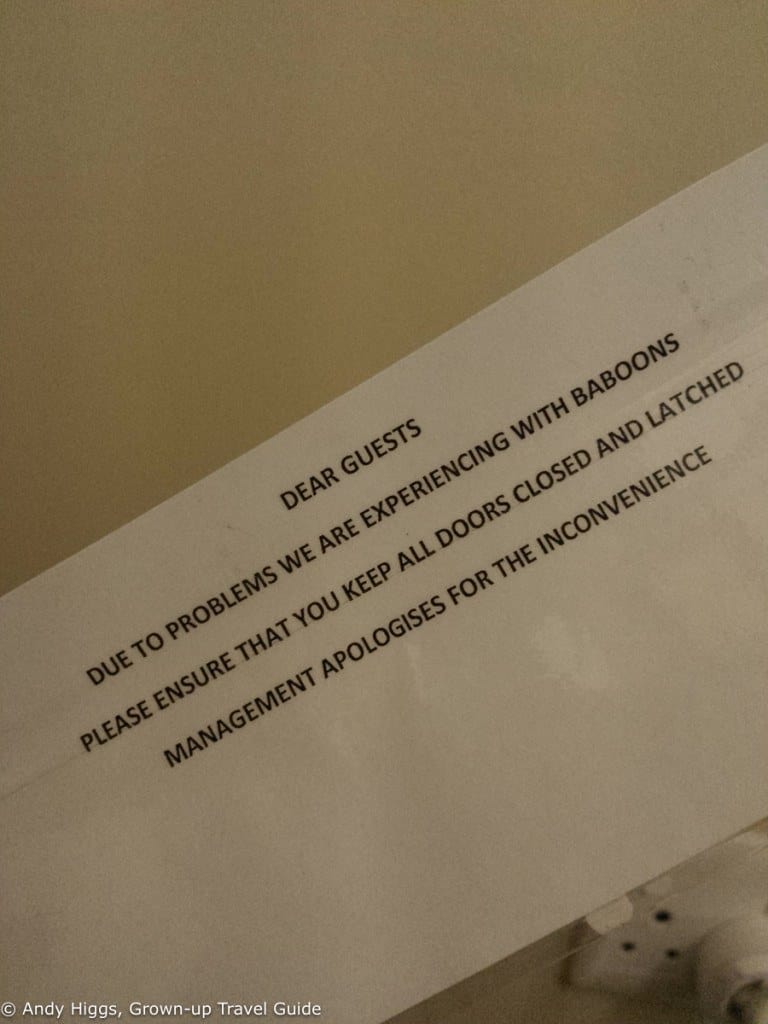 Fortunately I was undisturbed by baboons.
I was crestfallen to have to leave so soon as I loved it here; I will be back to stay longer and would thoroughly recommend Champagne Castle to anyone visiting the Drakensburg area.
Champagne Castle Hotel, R600 Champagne Valley, Central Drakensburg, Winterton, SOUTH AFRICA
Website: http://champagnecastle.co.za
Tel: +27 36 468 1063
After checking out I drove back to Johannesburg Airport for the flight back to Europe with South African Airways. With that, my brief but fantastic road trip was over.
I hope you enjoyed reading this trip report and that it has encouraged you to consider exploring South Africa by car – it has to be one of the world's best road trip destinations.
Contact me to put together your own road trip in South Africa!