This is the third part in the series. You can read the other articles here:
Self-driving in South Africa: Part 1 – Johannesburg to Graskop
Self-driving in South Africa: Part 2 – 19 hours in eSwatini
Back into South Africa – destination Zululand
In my mind 'Swaziland' (and also it's new name, eSwatini) has an exotic enough ring to it, but 'Zululand' is even more legendary. Don't get me wrong, this is not because I have in-depth knowledge of the history of this part of South Africa – I know embarrassingly little about it – but is more to do with popular culture.
At least on this part of the journey I did manage to learn more but did not have the time needed to really delve into the details. However, this much I do now know:
Zululand
Photo credit: 02091556 via photopin (license)
Whilst its heyday under King Shaka in the 1820s and 1830s is long past, the Zulu Kingdom still exerts influence in South Africa and Zululand is popular with both those wishing to enjoy its game reserves and those keen on learning about its history.
The latter is rather unclear, however, as facts and mythology were mixed over the years by both the Zulus themselves and the white settlers who encountered them. Yet it is widely accepted that the Zulu empire was one of the most powerful in the early 19th century and that this proved too much of a temptation to King Shaka's two half-brothers Dingane and Mhlangana who assassinated him in 1828.
Pressure from whites made the internal tensions even worse, culminating in the defeat of Dingane's army at Blood River by a fairly small number of Boers.
This resulted in a split in the Zulu state which was never resolved despite the emergence of a victorious side, that led by one Cetshwayo. The British high commissioner gave him an ultimatum to break up the state or face invasion.
Photo credit: Memorial, Isandlwana, KwaZulu Natal Province, South Africa, 2004 via photopin (license)
At the beginning of 1879 the British army suffered a disastrous defeat at Isandlwana yet won victory over a vastly stronger Zulu force at Rorke's Drift later the same day. By the end of July the British had snuffed out the Zulu independence movement, set Cetshwayo's capital ablaze and captured the king who was imprisoned in Cape Town.
Photo credit: Lions of Zululand 2 via photopin (license)
These days visitors can enjoy three major Zulu festivals that take place in September and October, enjoy several excellent museums on Zulu culture and history as well as 'Zulu theme parks'. The best known of these is Shakaland north of Eshowe which is a reconstruction of a Zulu kraal in the 19th century. I didn't get a chance to check it out but am reliably informed that it just about manages to stay away from tackiness and/or exploitation and is worth visiting purely for the Zulu dance shows and food.
Photo credit: DSC_0726 via photopin (license)
Strengthening my feeling that KwaZulu-Natal has an incredible variety of attractions for visitors within one state, Zululand is an area that demands a few days of your trip.
I of course didn't have that luxury, and spent most of the duration of my visit behind the wheel of my trusty vehicle.
From the Swaziland/South Africa border the road worsened almost immediately, pitted with pot holes and regular corrugations. Most likely caused by heavy trucks battering the asphalt, it slowed my progress quite considerably but gave me the time to enjoy the forests and huge farmlands along the way.
Things improved when I rejoined the major N2 road north of Piet Retief and the rest of the journey was both faster and more comfortable.
My plan was to reach Dundee (yes, really) and then explore the town with whatever time I had left. Using the internet at Mantenga Lodge I had made a reservation at a guest house run by a French lady who is also an expert on the history of the Battlefields area into which I was now entering. I figured that would make for some good conversation over dinner and breakfast.
The Battlefields
Photo credit: Zulu Battlefield Guide via photopin (license)
Mostly located in the northwest part of KwaZulu-Natal where the Boers first emerged from the mountains into Zulu territory and defeated them at Blood River, the Battlefields also include locations where the British fought the Zulus and then the Boers.
As well as the sites mentioned previously in this article, Ladysmith is remembered as where the British were caught in a siege that lasted months and perhaps wounded pride more than soldiers and leadership mistakes caused a humiliating defeat at Spioenkop.
You can visit on your own but it cannot be stressed enough that a guided tour is the way to go. The towns in the Battlefield area are home to many private guides whose expertise is second to none.
Try to make time to experience both Isandlwana and Rorke's Drift as an absolute minimum; the former is where the British suffered their most humiliating defeat in their colonial history and remains more or less unchanged from that day (January 22, 1879).
At Rorke's Drift that same evening, British honour was restored when just over a hundred soldiers (including many who were sick) defended the field hospital from thousands of Zulu warriors, resulting in the award of 11 Victoria Crosses, a record for a single battle.
I could only view these sites in the distance, however, as I was on a mission to reach Dundee.
Dundee
Located just over 30 km west of Rourke's Drift, Dundee is a rather quaint town which makes a good base from which to explore the area. It was coal-mining that brought riches and new inhabitants to Dundee back in the day, and it's worth picking up a walking tour brochure from the tourist office to visit the historical buildings from this period.
Today Dundee is a sleepy but sizeable town with everything a traveller needs including a choice of decent accommodation, stores and supermarkets.
The main commercial part of town was similar to most places I'd passed through in South Africa – a little shabby but containing a wide variety of shops. However my port of call was Chez Nous, a guest house offering both bed and breakfast and self catering options located a few blocks from the centre in a residential area.
The first thing that struck me was how similar this part of town was to a British rural suburb – wide, tree-lined streets with kerbs and pavements, a number of parks and green spaces (including a cricket pitch) and sizeable private houses.
The main difference was of course high walls, fences and security. But in most other ways I could have been in Surrey (or perhaps even somewhere in that Dundee). You'll see what I mean from the video here which shows some of the highlights of the drive from the Swazi border to Dundee.
At this point my time in Dundee took an unexpected turn. I pulled up at Chez Nous, the aforementioned B&B, and pressed the entrance buzzer. No reply. I tried it several times, got out and had a look around (nobody to be seen) and then drove around the block to try to get a look in from a different angle. Still nobody. Time was getting on, so I would soon be needing a plan B.
I remembered reading about a historic hotel that I passed on the way out of town, so I figured I'd go there and ask for some assistance. The Royal Country Inn is a legendary property in Dundee and one that I planned to visit if only for a beer; but I now began considering staying here for the night too – I had not been able to book online yesterday which is why I looked elsewhere.
The receptionist was extremely friendly and helpful, she also knew Elisabeth from Chez Nous well and was surprised that she hadn't answered the door. She called Chez Nous for me but there was no reply. I then decided not only on what would constitute my plan B but that I would implement it right away.
I asked if they had a room available in the event that I could not get in touch with Elisabeth – they did – and then decided to give that buzzer one more try. Unfortunately my efforts went unanswered, but on the other hand I would know get to try the Royal Country Inn.
Later Elisabeth called the hotel and explained that she had fallen asleep and not heard the buzzer or telephone. She was beside herself with regret as this had never happened in all the years she had been running the place – I tried to console here that these things happen but this was not easy. In the end she said I wouldn't have to pay on my next visit and apologised for the 27th time. I felt sorry for her and hope that she understood that there were no hard feelings.
Anyway, back to the present: I collected my key (a real, old-school one on a huge fob) and went to investigate Room 34.
The Royal Country Inn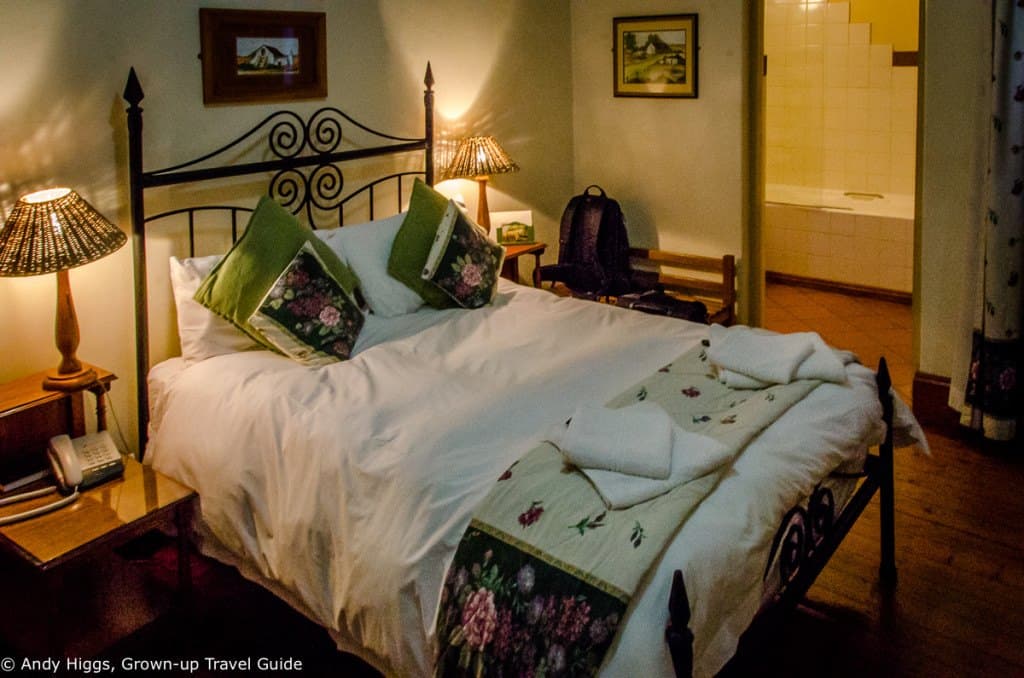 Located as it is at the top of the high street in Dundee, you're not far from anything in town. I said it was a historic hotel and I wasn't exaggerating – it first opened its doors in 1886, only four years after the town was established.
Dundee is about half way between Johannesburg and Durban, too, so this makes a good place to rest up if you are on that journey as well as being an ideal base to explore the Battlefields.
The current owners bought the property in 1999 and applied years of loving care to restore the hotel to its present state.
They were careful to maintain the old style but add new amenities, and this is reflected in the room I had for the night.
Clean and comfortable but also quaint and classic, I really liked the standard they have settled on here.
The bed was excellent, I always love the luxury of a full size bathtub and the shower was good too.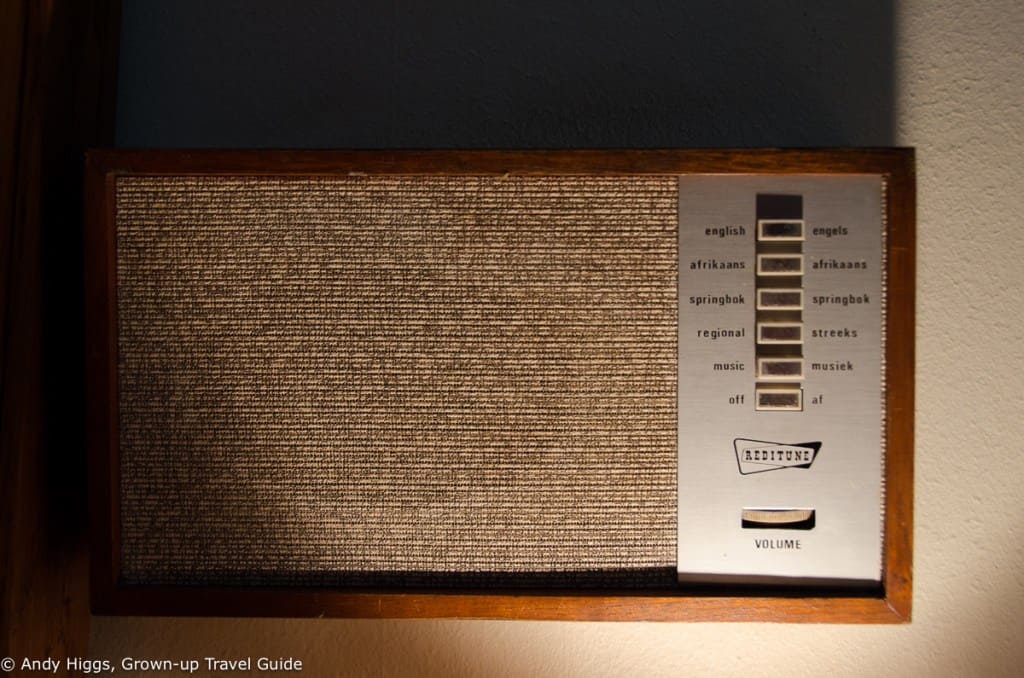 I also loved the old radio on the wall.
The public areas of the Royal such as the lounge, bar and library are a treasure trove of memorabilia, historical documents, photographs and art. I spent some time looking through the collection which would not be out of place in a museum and is a real bonus for guests.
Here's a video of the hotel and my room:
The British style pub and hotel restaurant are both justifiably popular with restaurants and visitors alike and service in both – and in general here – was top-notch.
I ate dinner in the restaurant (a delicious curry) and had a pint or two in the pub.
I slept like a log and breakfast the next day was once again amazing – this was in fact probably the best full English I'd had in South Africa, and that's saying something.
The hotel can arrange guides to tour the Battlefields and provide information about local attractions.
The Royal Country Inn, 61 Victoria Street, Dundee, KwaZulu-Natal, SOUTH AFRICA
Website: http://www.royalcountryinn.com/index.html
Tel: +27 34 212 2147
I was disappointed to have to leave Dundee the next morning but will return, hopefully with my family, to stay here and properly explore Zululand. I will also stay at Chez Nous, of course 🙂