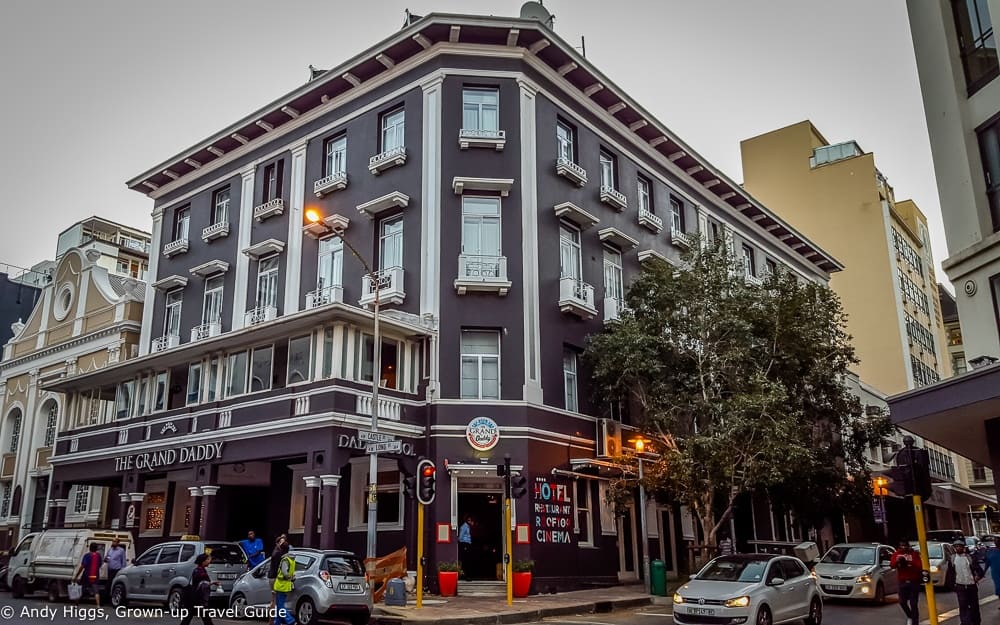 The Grand Daddy Hotel is a perfect choice for Cape Town, whether this is your first visit or your twentieth. With a quirky but fun style, a relaxed atmosphere and superb service, you'll feel at home from the minute you arrive. I will be back – and you should definitely visit when you get to Cape Town.
When the opportunity came up to speak at WTM Africa in Cape Town a couple of  years ago, I didn't need a great deal of persuading. I was tentatively planning to visit the show anyway to meet contacts old and new, so this was just the push I needed.
Happily the timing worked well with regard to home life and I even managed to leverage the last of a stash of American airline points I had bought for half price months ago to secure tickets in Etihad Business Class for the long parts of the journey. It was quite a journey, too – both in terms of the number of flights just to get from Trondheim to Cape Town and back but also in terms of luxury – no complaints here.
With those logistics taken care of, I began to approach hotels to see if any where interested in my reviewing their property in return for a couple of nights accommodation. I realised that demand for rooms was going to be high and that I had left it rather late (I was sending emails less than two weeks before my departure date) but crossed my fingers. Not only did I receive a slew of positive replies, I actually managed to get invitations from several of the hotels on the top of my wish list – including the one at number one, the Grand Daddy.
I had heard a lot about this place, how it had a perfect central location and a quirky style. If I wasn't mistaken there was something about a rooftop cinema and a trailer to stay in up there too. I wasnt' mistaken, but more on this later… I was incredibly excited to be finally visiting Cape Town and also to be staying at the Grand Daddy.
The hotel arranged a transfer from the airport for ZAR 330 and my driver was waiting with my name on a board as I came through arrivals. It was late, I'd been in transit over 35 hours so this was an extremely good move and (little) money well spent. It was dark as we drove into the city but I could see that Long Street was a lively place. But what of the hotel?
Vital stats:
Location, location, location?
For a first-time visitor to Cape Town wanting to dive straight into the nightlife or start exploring the downtown areas, you can't beat being based on Long Street. This is basically the heart of the bar scene at night and by day you'll find dozens of interesting shops and cafes. It's also safe, there are taxis everywhere if you fancy striking out further afield and it's within walking distance of many of the city's sights.
Table Mountain can be seen from the hotel. For me it was a pleasant ten minute walk to the Convention Centre where WTM Africa was taking place – so that was ideal too.
Rooms
There are three main types of room: standard (20 square metres) are the smallest and face the inner courtyard. Superior rooms are the same size but have street views while luxury rooms are 30 square metres and can accommodate families with children.
Two suites are also available – the Sugar Daddy Suite which is 45 square metres with an open plan lounge and balconies, and the Grand Daddy suite weighing in at 60 square metres with a separate lounge and an outdoor patio. Then you have the "trailer park" – but we'll get to that in a bit. I stayed in a superior room, number 206 to be exact.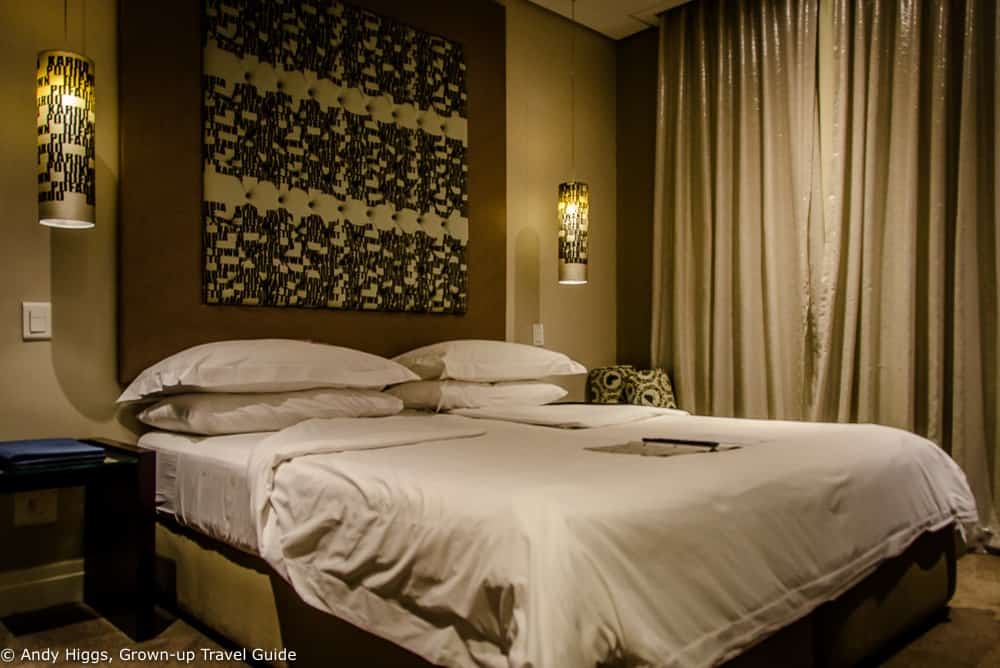 As you can see it was tastefully decorated and featured a large and very comfortable double bed.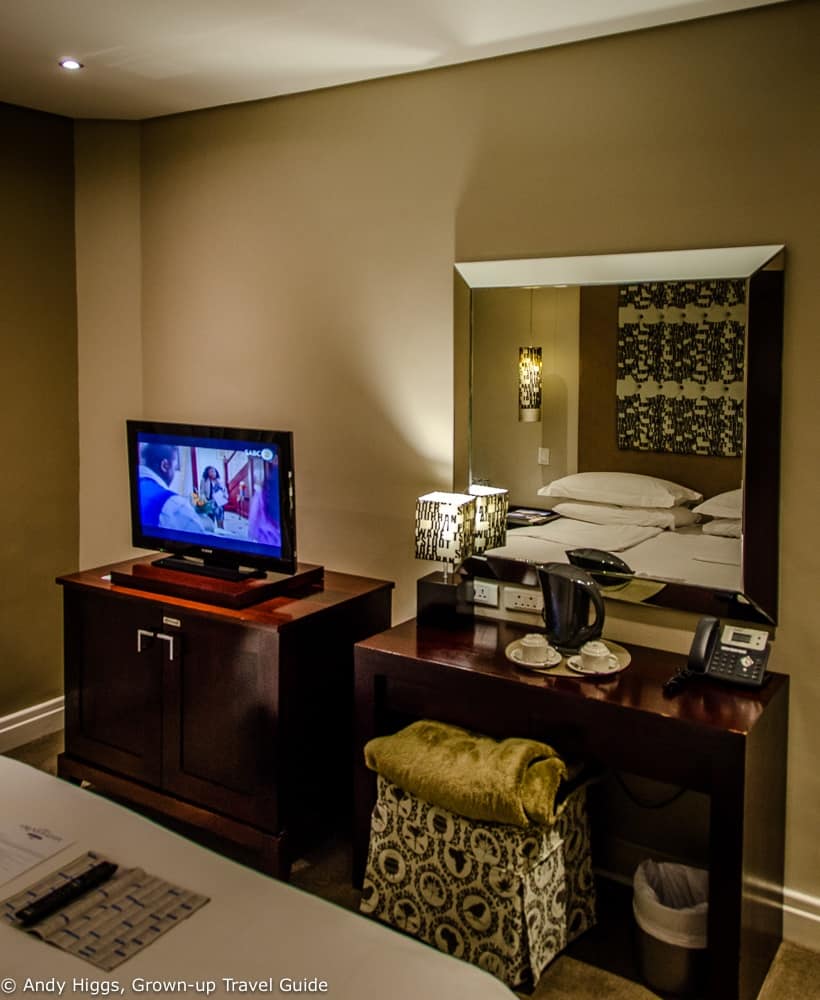 A flatscreen TV provided a large range of channels and gave me the chance to catch up with a couple of South African soaps since my last visit to the country. Not a great deal seemed to have happened in 12 months, let's just put it that way… Tea and coffee making facilities are always welcome, too.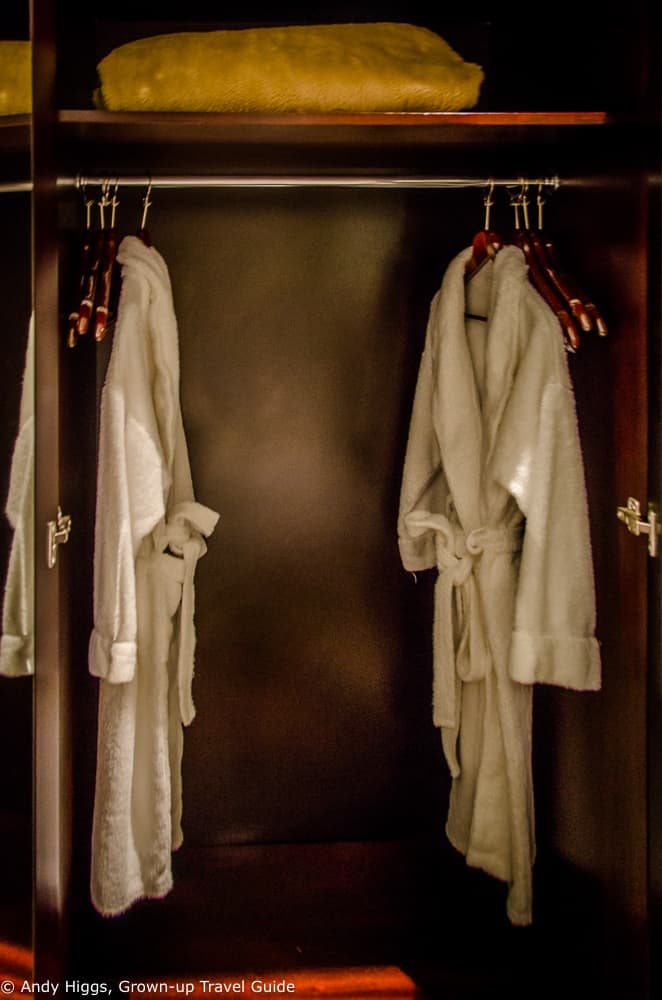 Fluffy robes are provided for lounging around in should you so desire. The other wardrobe contained a decent sized safe.
I do understand why hotels would rather provide empty minibars and allow guests to request them to be filled, but I still find it a little disappointing that there's not even a cold beer to celebrate with when I arrive in a new place.
It's probably just me, but I don't mind paying twice the usual rate for one as part of my ritual on checking in, so Grand Daddy take note – you are missing out on easy money. Okay, it could just be me. I don't know about you, but I reckon it's time for a video overview of the room so you can see more:
All in all the room was very comfortable and cozy. Noise from the street was minimal, the curtains effectively blocked out the light and the air conditioner didn't disturb. In other words, you could probably sleep easily during the day too if you needed to catch up on sleep after a long journey.
I also appreciated the daily updates I received after turndown service in the evenings…
The bathroom was a good size and well designed – I was pleased to see a bathtub too although it could have been bigger (well, not given the width of the room, so it was as big as it could be I guess).
Water pressure in the shower was good and while it took a while for the water to heat up, once it did there was plenty of it.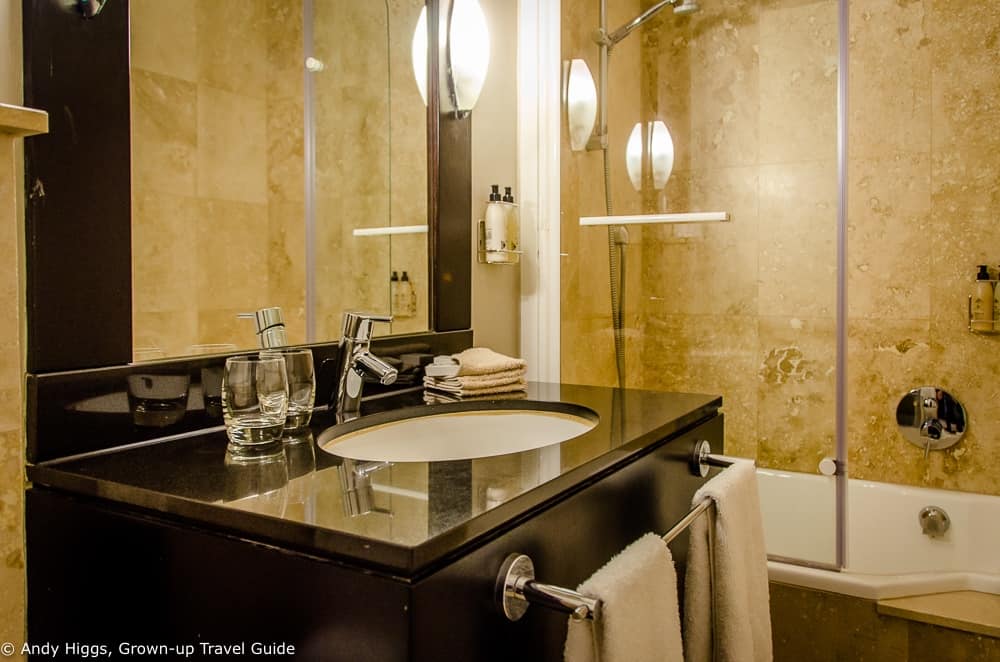 Plus points for the refillable toiletries that cannot be easily removed by guests – way better for the environment than those small bottles. All the products were of high quality, too – meaning that if they hadn't been secured I'm pretty sure light-fingered guests would make off with them.
There wasn't a huge amount of storage space in the bathroom but enough for a couple even if one or both is rather fond of spending extended periods in front of the mirror applying whatever it is they apply.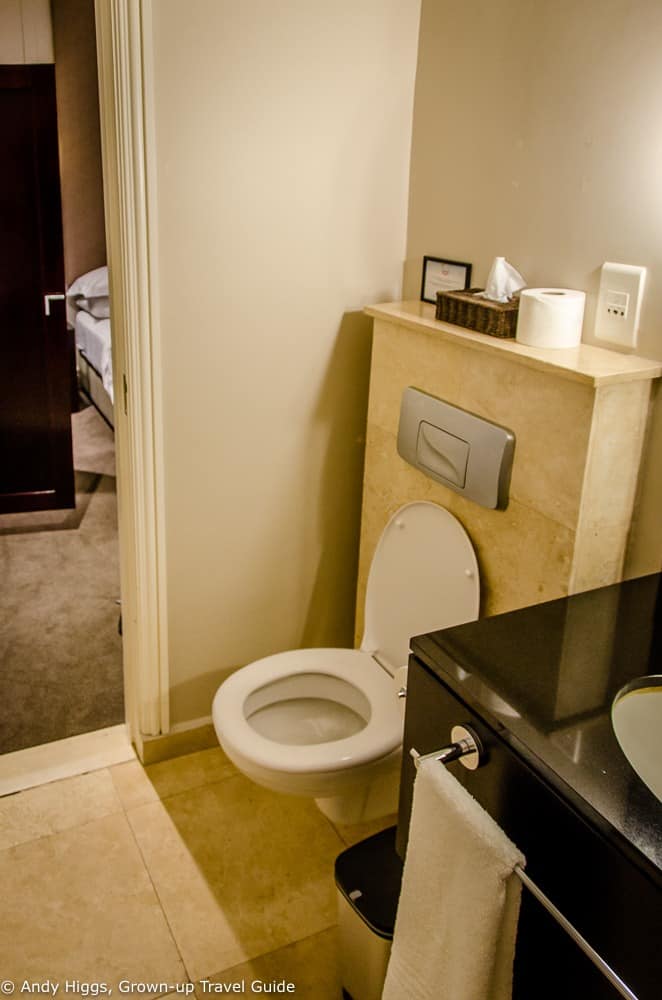 So, in conclusion I loved the superior room – and the experience is only getting better because I just learned that the hotel will be refurbishing the rooms and they will be uniquely decorated by local artists. Of course if you are looking for something really unique right now, the Grand Daddy has you sorted there too.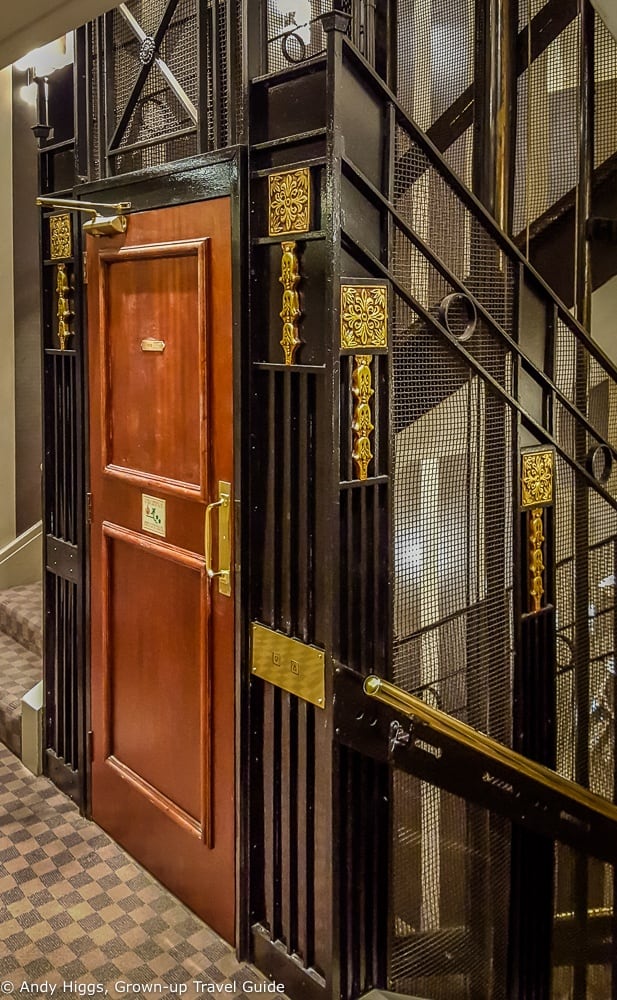 Just take the vintage elevator (the oldest still in operation in Cape Town) up to the third floor, then follow the signs to the roof…
Your road trip starts here.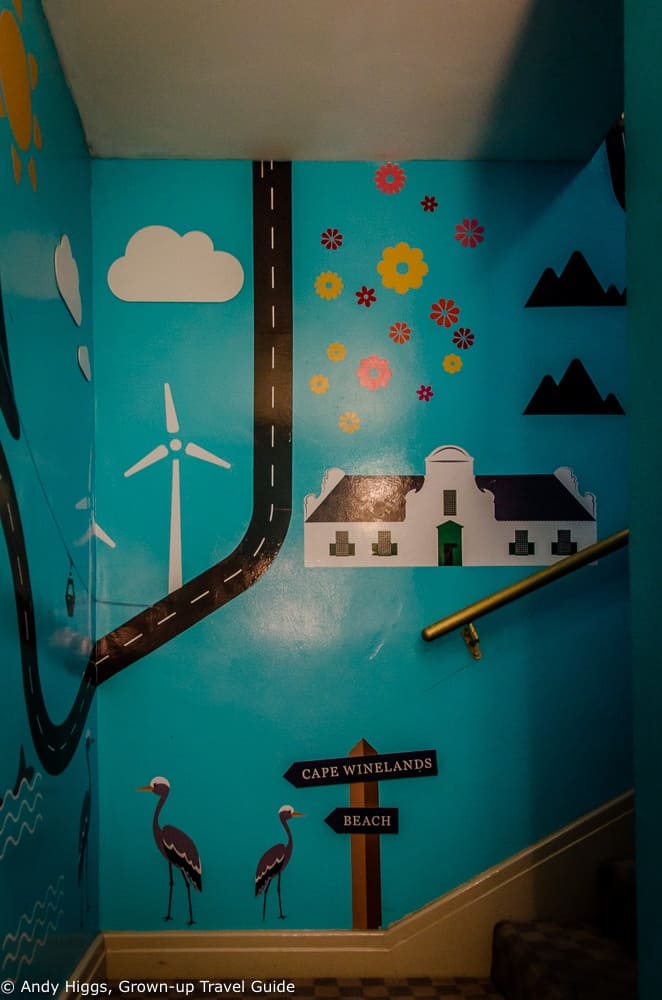 Round the corner…
One more turn…
And here we go. You ready? I hope so, because you have never seen anything like this before in a city hotel (or quite possibly anywhere…)
The rooftop trailer park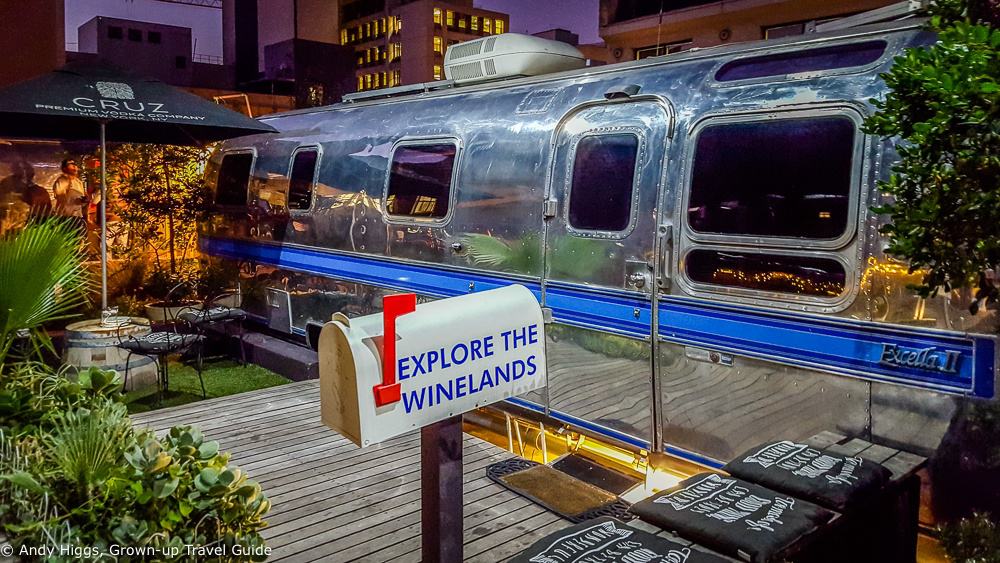 See, I wasn't joking about a trailer on the roof. But I got it wrong – there's not just one, there are seven genuine Airstream trailers, each with a different theme.
They were shipped from America and Long Street was closed while a crane lifted them into place.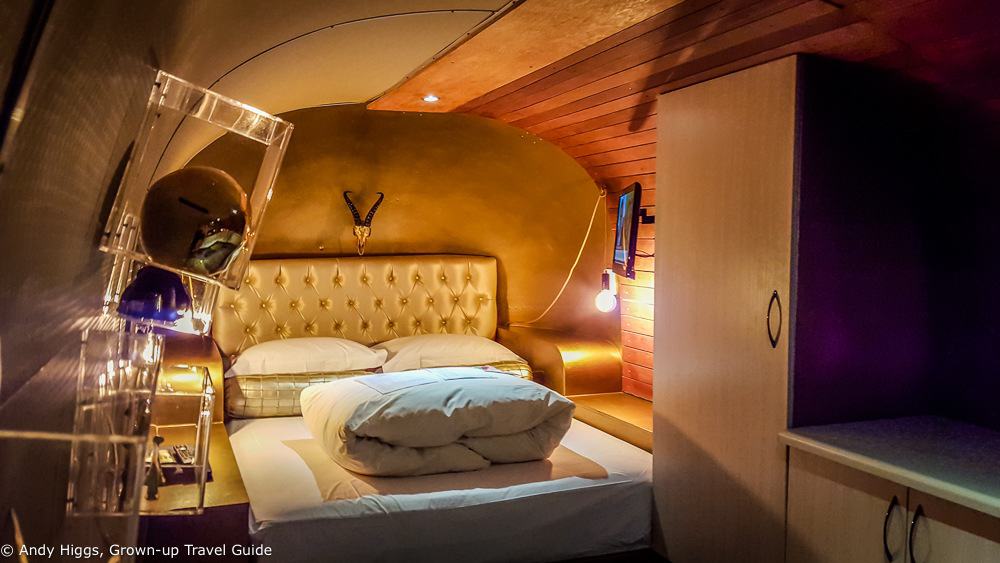 During the week an evening reception is held at the roof bar and unoccupied trailer rooms are opened for curious visitors to take a peek.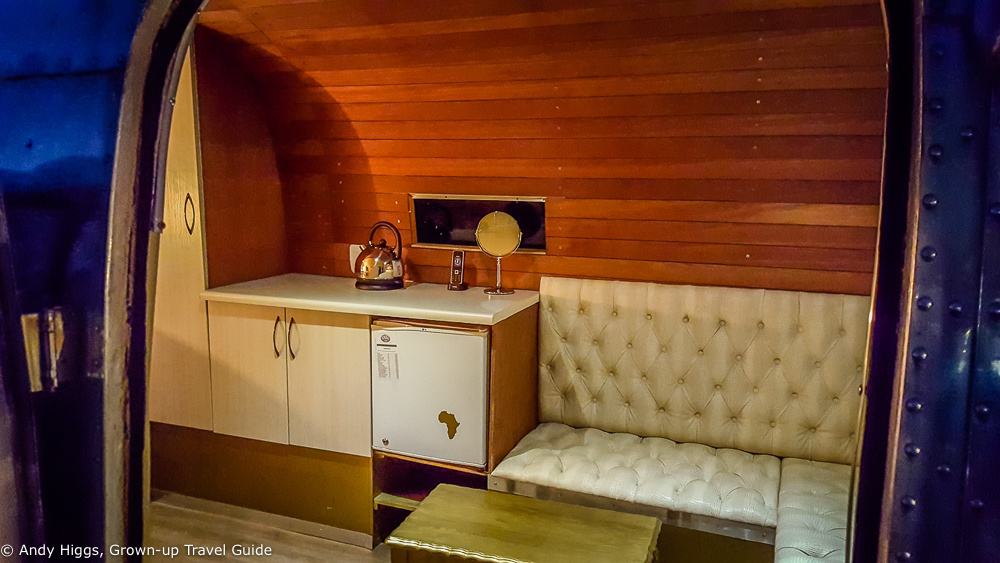 Next time, I will have to stay in one of these.
How inviting is that?
My favourite is probably the safari-themed one styled on one of the hotel's sister lodges in Madikwe Game Reserve in the north of the country, Jaci's.
I particularly liked the outdoor shower – what a great touch.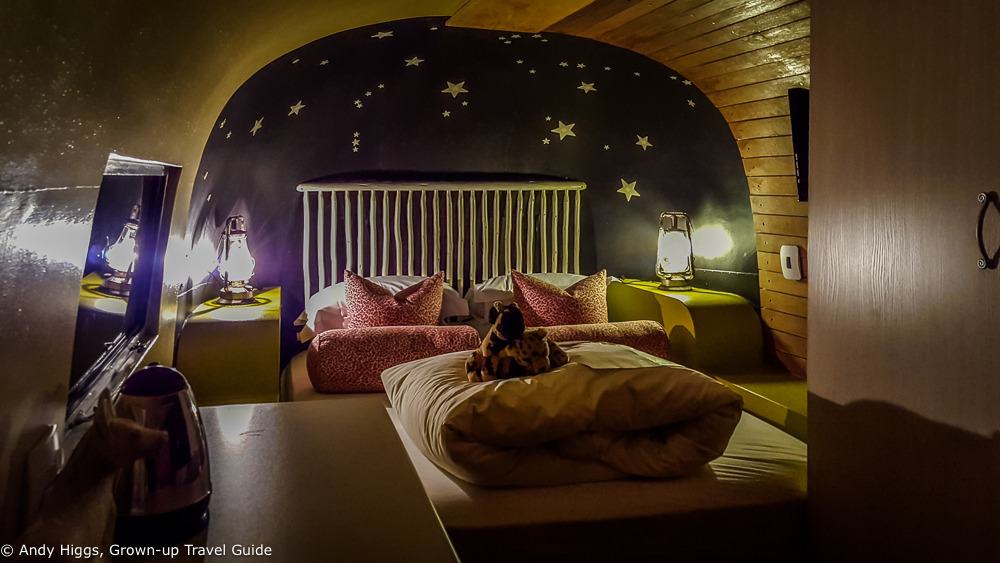 You can sleep under the stars, too.
Food and drink
Usual board basis: Bed and breakfast
Full breakfast is included. Choose from the menu at THIRTY ATE up to a value of ZAR 75 (more than enough to get your fill) and pay any extra over this if you are really, really hungry.
The English was superb.
I went for a healthier option the next day, mainly for appearances. But it was lovely.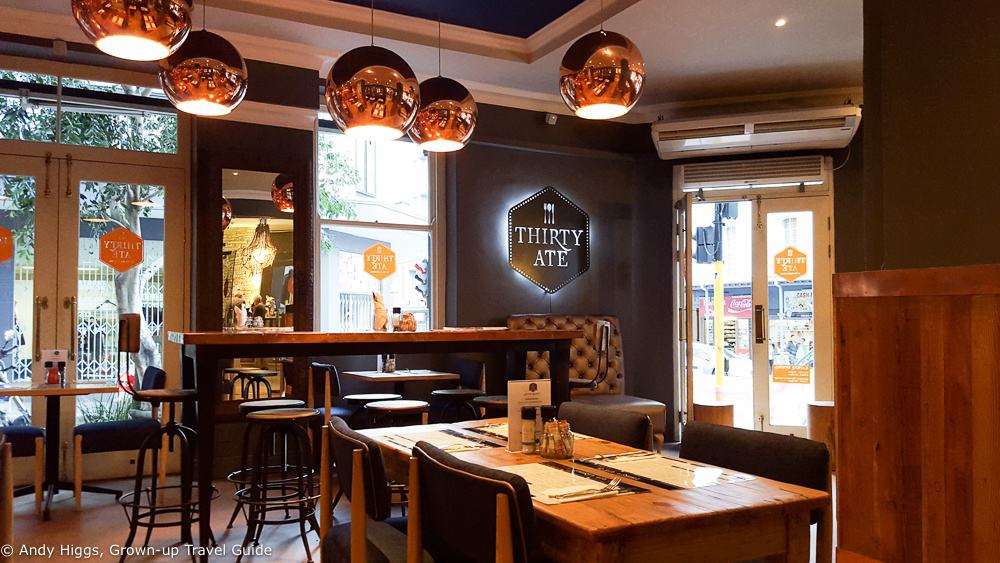 There is an eatery on the ground floor opening onto Long Street, a lounge on the third floor and a rooftop bar on the edge of the trailer park. THIRTY ATE (gettit?!) is the name of the new eatery at The Grand Daddy. It serves breakfast, lunch and dinner as well as cocktails, wine, craft beers, coffees and sweet treats.
The menu features modern takes on fast food classics like burgers and sandwiches as well as a mean fish and chips. Ingredients are sourced locally and all dishes have an authentic homemade style. Much of the menu changes each week so you won't get bored if you keep coming back for more.
There is also an exclusively South African Gin menu, which is a nice touch. Craft gin is the new craft beer, if you haven't heard*. *By the time you read this, that may no longer be true. If indeed it ever was…
Daddy Cool
This lounge area is on the third floor at the end of a rather spectacular corridor:
Yes, that is a fish tank there on the right.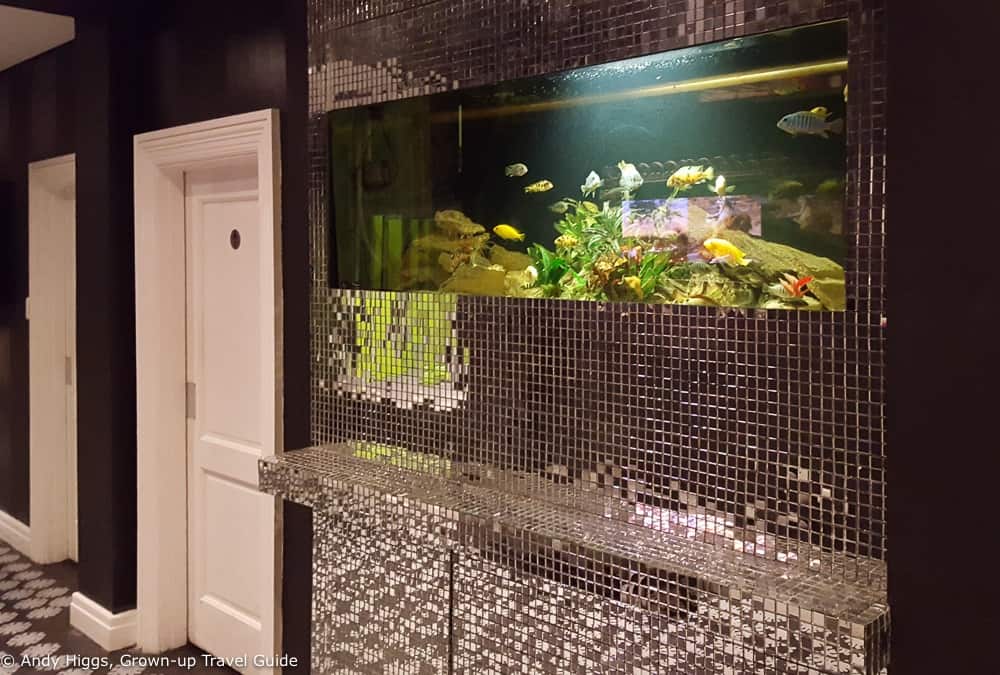 See? Anyway Daddy Cool is closed on Sundays, Mondays and Tuesdays so I couldn't check it out but it looks like a fun place for a drink.
Skybar
One floor up, on the roof, is the skybar.
Popular with residents and visitors alike, it's a great place to relax with a beer or glass of wine. Or something stronger… In a really nice move, in-house guests are invited to enjoy a complimentary welcome drink in the reception area or rooftop sky bar each evening. As mentioned before this is also an opportunity to sneak a look at the trailers, too. Get this – the Grand Daddy has a rooftop movie theatre!
The hotel shows classic films on Monday nights in its Pink Flamingo Cinema. Details are shared on its Facebook page and popcorn, a welcome drink & sweets are included in the ticket price. The seating area here is transformed into an auditorium on movie nights.
Films are projected here – another experience I missed this time round unfortunately.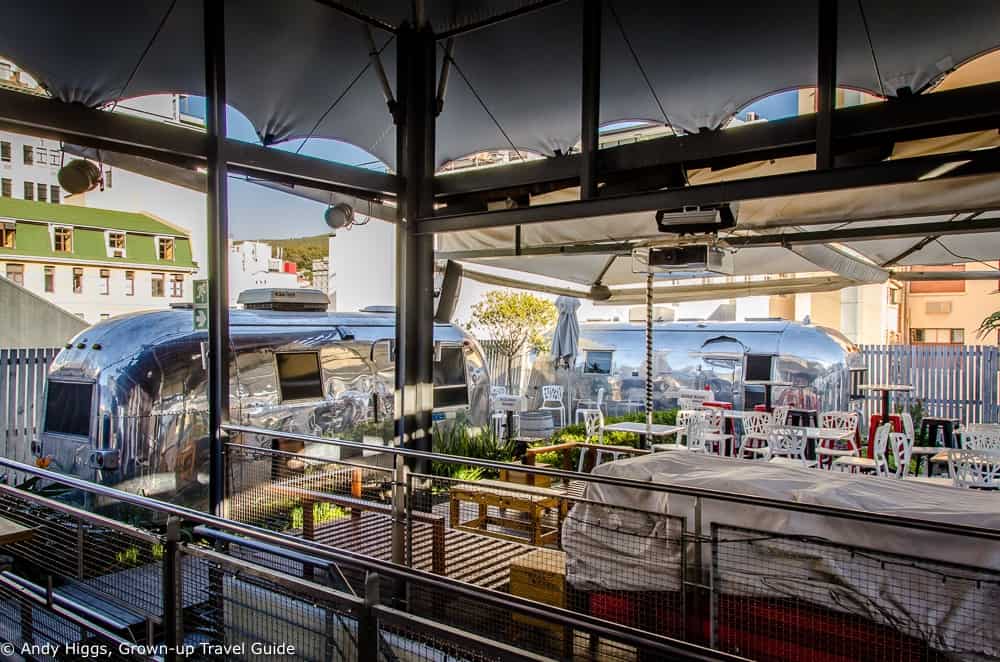 Not your average cinema environment.
The technical stuff
Power supply: Mains electricity 24/7
Communications: WiFi is free for guests and works in the main areas and the restaurant, as well as in the rooms. I had no issues using the internet anywhere I wandered.
Health, safety and security
Water supply notes: Tap water is excellent and safe to drink.
Malarial protection recommended: Not necessary
Service
I touched on this earlier but it bears repeating – service at the Grand Daddy is top-notch and all the employees seemed like they enjoyed their work; always a good sign.
The verdict please your honour...
The Good
Basically everything. The location, comfort, extra touches, food and drink, service…
The Bad
Nothing really worth mentioning here. A beer in the minibar would be nice though.
The Ugly
You're joking aren't you?
Closing comments: The Grand Daddy Hotel is a perfect choice for Cape Town, whether this is your first visit or your twentieth. With a quirky but fun style, a relaxed atmosphere and superb service, you'll feel at home from the minute you arrive. I will be back – and you should definitely visit when you get to Cape Town.