This is the final part in the series describing my adventures in Botswana with Sunway Safaris – read the first post with full details on the company here: An unforgettable Botswana safari: Part 1 – The Okavango Delta.
The second article covers Moremi Game Reserve and can be found here: An unforgettable Botswana safari: Part 2 – Moremi Game Reserve.
At the end of the last post we had just arrived at Hyena Pan Lodge which was to be our home for the final two nights of our time in Botswana. Let's continue…
In my opinion Hyena Pan Lodge is another example of how to get safari accommodation just right. As with Bomani Tented Lodge and Gorges Lodge in Zimbabwe, Hyena Pan Lodge offers all the comfort, good food and amenities that you need without the over-the-top elements that separate guests from the true African experience.
This is a luxury lodge for reasons other than thread count and caviar; the location on the edge of the eponymous pan (water hole) is worthy of five stars on its own.
We were able to watch several herds during the time we stayed at Hyena Pan and I put together a compilation video from footage shot over the two days:

I could watch these guys all day.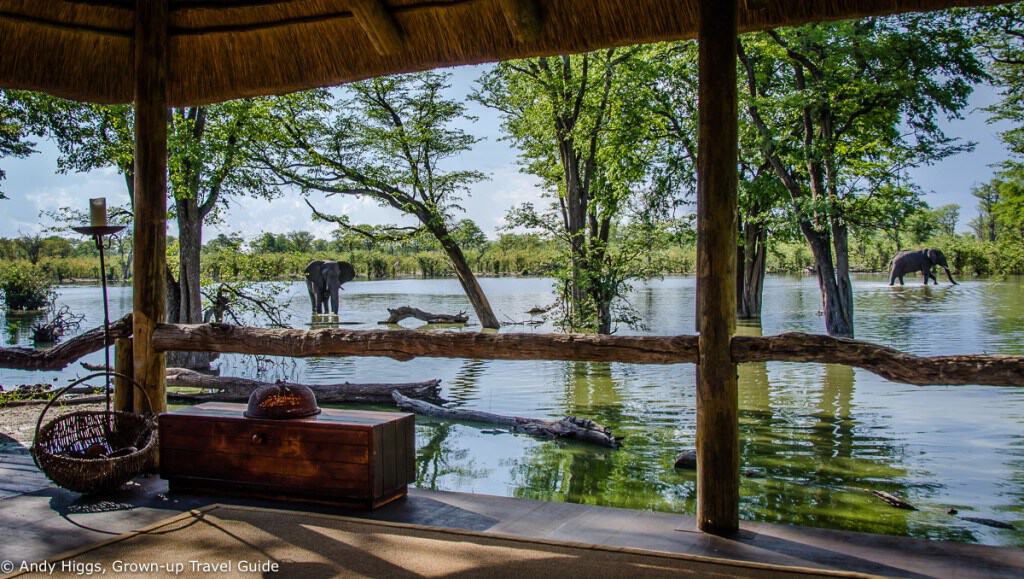 The terrace is divided into several areas offering a variety of places to relax with a sundowner and observe nature in all its beauty.
Whether you choose the enticing sofa or armchair in the right-hand corner as seen in the shot above…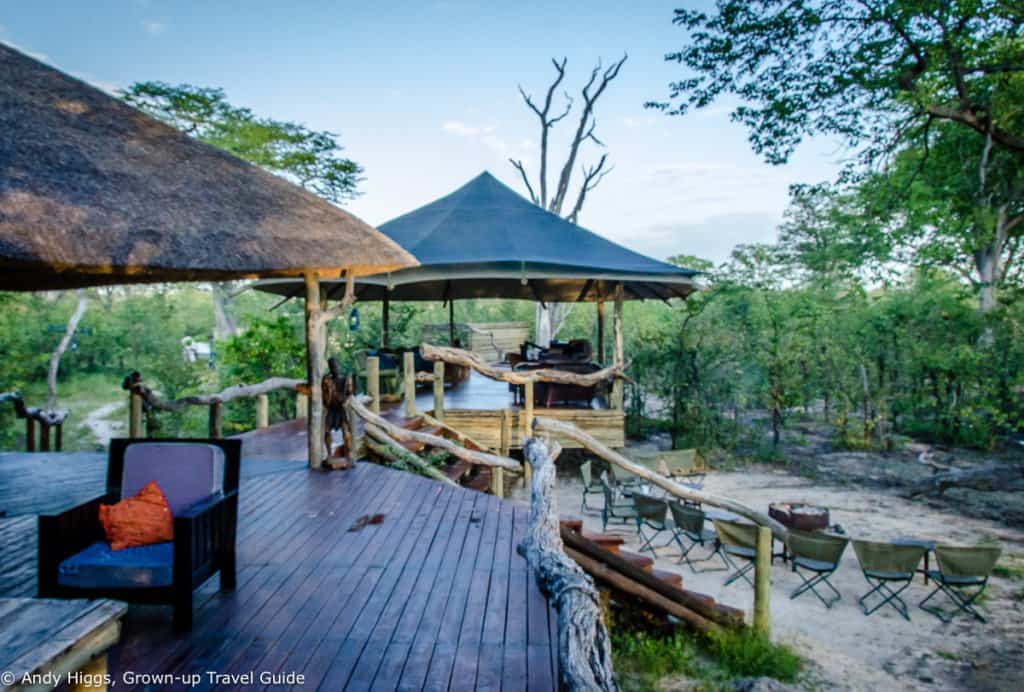 …the covered area on the left side which offers a little more privacy (and a plunge pool from which you can soak in the water while elephants do the same a few metres away)…
…or the open area with only the stars above you at night. Dinner is served in the main middle section which also contains the bar. As if that wasn't enough options a wood fire is lit in the evening around which guests can gather at the water's edge to share stories.
There is enough room for everyone whether you are feeling social or want some time to yourself; but everyone comes together at mealtimes around the long table – one of the highlights of a stay here.
Just before dinner as we relaxed with a G&T a lone elephant came for an evening dip as the sun set – just to turn up the 'idyllic' level to 11.
By now I'm sure you'll be wondering about the rooms: at Hyena Pan Lodge accommodation is in permanent tents – with canvas walls and roofs but hardwood floors; I shared a double room with two comfortable beds and a separate bathroom with washbasin, toilet and shower.
The entire camp runs on solar power which means that electricity is available 24 hours a day. It's a huge perk to be able to charge equipment whenever the need arises – this is one aspect of the modern world that is very welcome in the bush. A cellphone signal and wi-fi, on the other hand, are blissfully absent.
This is an ideal place to come for a little 'digital detox'. Yes, it's a horrible term but the point stands…
Here's a video of the lodge and our accommodation:
Nice, huh?
As you can see a couple of elephants came really close to the tents which was a special treat.
All meals at Hyena Pan Lodge are home-cooked and hearty – you won't go hungry. Once again I marvelled at the logistical skills required to keep such a remote lodge stocked; it's a world away from running a hotel in a large city with regular deliveries of produce and the ability to pop to a store round the corner if you run out of something.
Our entire group was ready to call it a night after dessert due to the classic safari combination of a long day under the African sun, excellent food and generous amounts of wine.
I slept like a log and woke just before dawn when Tony came and gave us the 'knock' (i.e. told us it was time to get moving).
We had a whole day of game drives in and around Moremi Game Reserve ahead of us, and early morning is one of the best times to see lion and other hunters. Rather adorably, lions don't like getting their paws wet so they often use paths and roads before the sun has burned off the morning dew…
Our group met for 'first breakfast' on the terrace and after coffee and toast we were ready for the off. The first hour or so of daylight can be a little chilly and I was glad I wore my fleece jacket, although by 0715 or so it seemed amazing that I had used it at all.
Having said that, the heat is not oppressive at this time of the year and driving in an open vehicle provides all-round ventilation.
It didn't take long before we spotted tracks. Okay, before Kenny spotted tracks and pointed them out to us. I believe the ones shown here are hyena but am sure that if not I will be corrected soon after publication and will update accordingly 🙂
Both Kenny and Tony discovered fresh lion tracks although it appeared that they had crossed the track and headed into the bush away from the direction we were headed. No matter, we had plenty of time left (and had already had a good lion sighting yesterday)
As mentioned before you mustn't overlook the smaller wildlife in your eagerness to spot the Big Five and should always keep your eyes peeled for interesting scenes. To me the duck in the picture above could just as easily been on a pond in a quaint English village…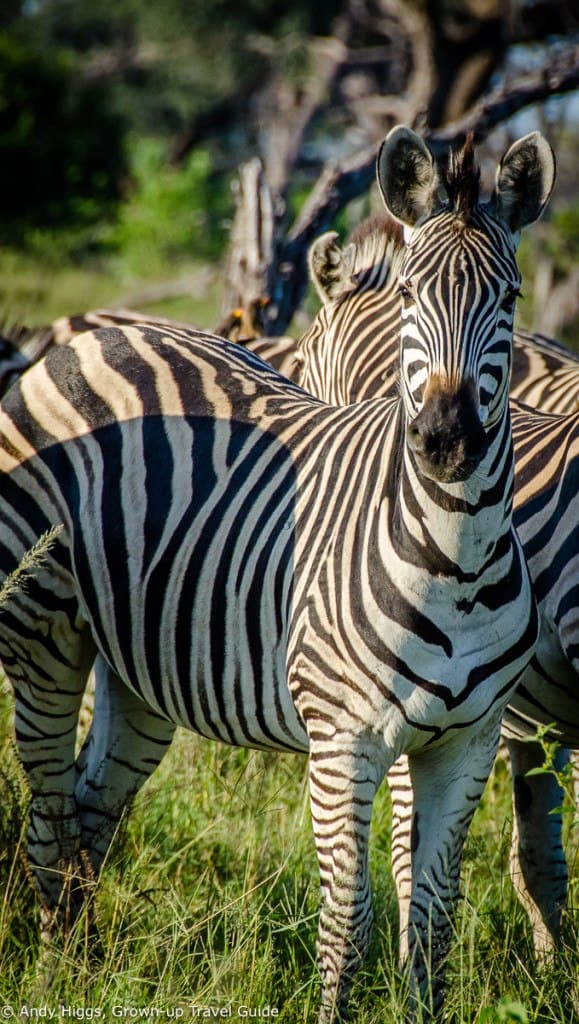 As we drove out of the mopani forest and onto a large area of open plains we soon began encountering the usual suspects – including a large herd of zebra.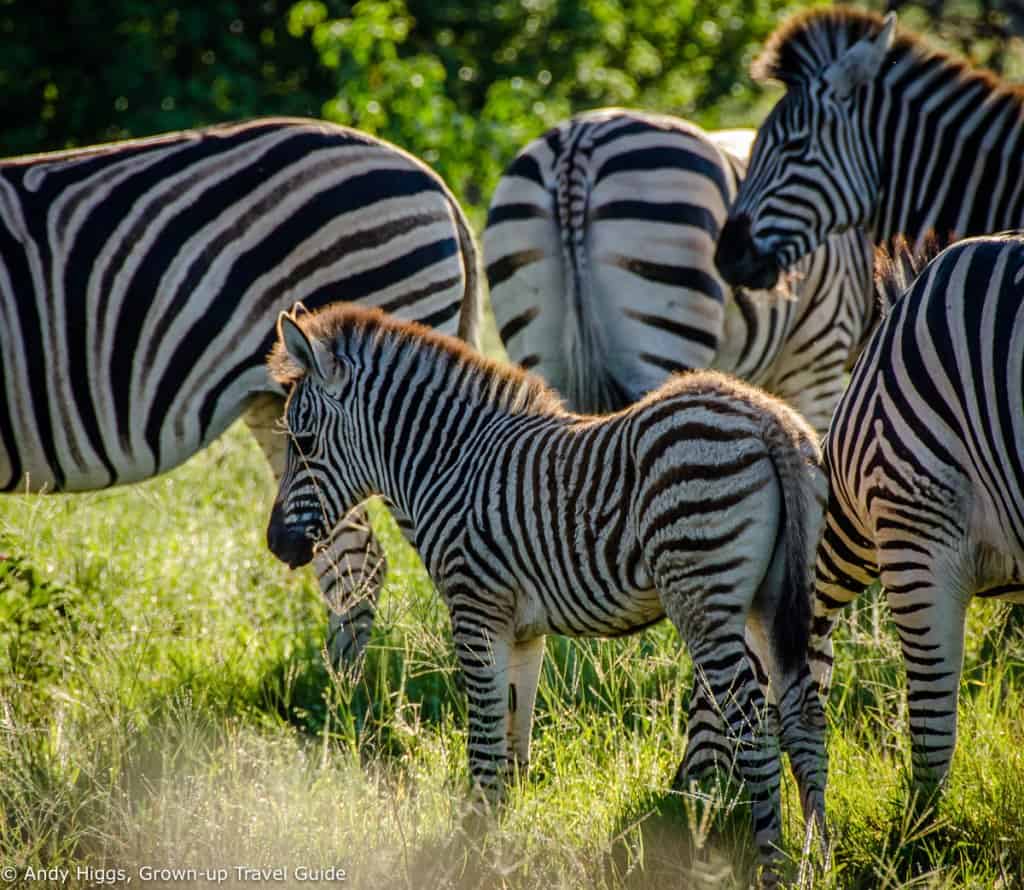 There were several youngsters in the group such as this fella.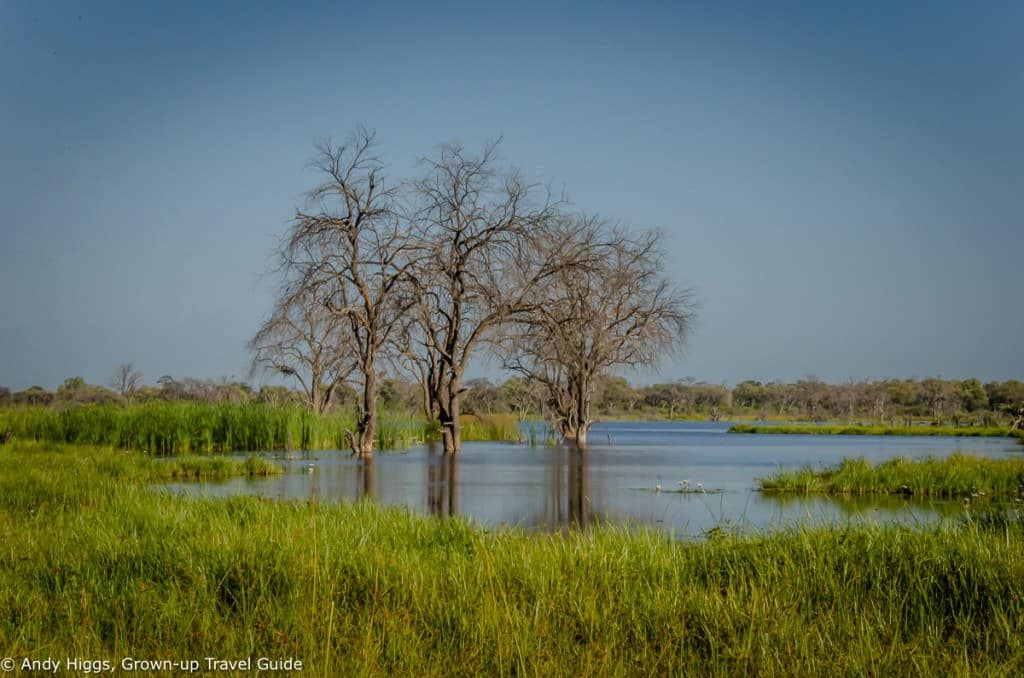 A major feature in this area as well as the Okavango Delta are dead trees drowned by the water – they are both a little eerie and make an attractive backdrop for photos.
Once again we nearly missed a crocodile sunbathing on the opposite river bank – like I said, it pays to be alert. The river marks the outer boundary of Moremi Game Reserve which was our destination, but we needed to drive a little further in order to cross.
After doing so and entering the reserve it didn't take long before our next encounter.
In what was a remarkable feat of spotting, Rupert from Mask Expeditions discovered this sleeping hyena concealed in the bushes. We were all looking for hyena after finding tracks and being told by Kenny that they usually stayed in this particular area, but nevertheless we were amazed at Rupert's eagle eyes. He is a trained guide with years of experience, but even so…
After doing our best to document his find – as you can see, it wasn't easy – we left the hyena to its nap and trundled on.
About ten minutes later Kenny stopped the vehicle so we could take a look at this pair of cranes, but we soon noticed something else in the background, almost submerged in the water.
This hippo then wandered out of the river and off into the distance, presumably after some juicy grass. I switched to other camera to take a video but he was already gone…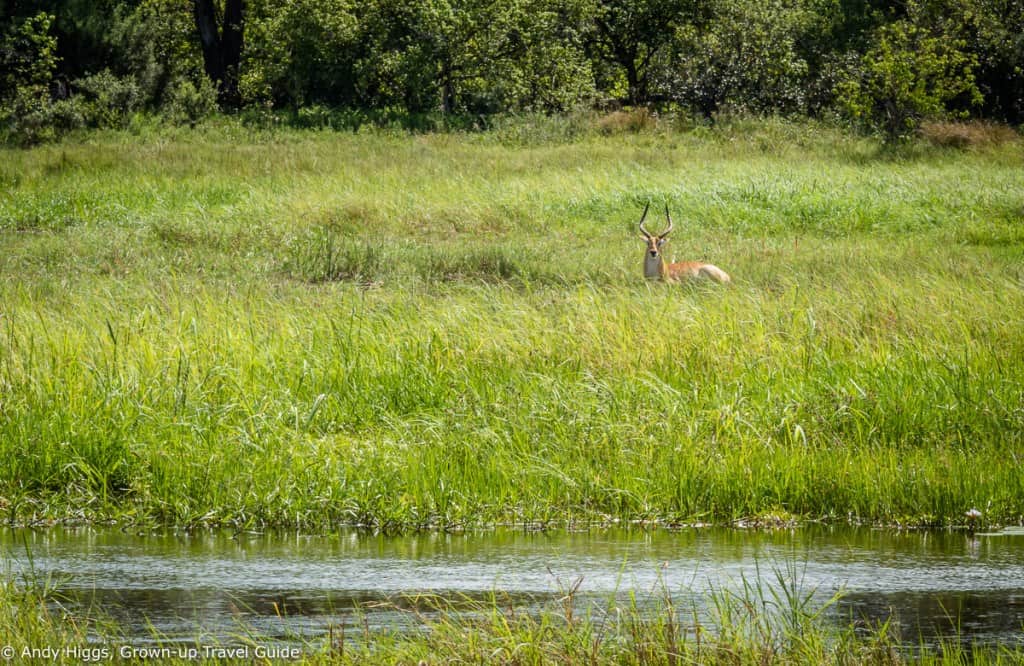 We drove deeper into the reserve and while passing through the marshy floodplains our progress was being noted by this beautiful Red Lechwe. This one was relaxed due to the fact that he was a safe distance away and a river separated us – it's not always easy to get close to Lechwe as they are quick to escape potential danger.
A little further upstream some slightly larger inhabitants of Moremi were waiting.
The sheer size of these hippos is daunting enough – the fact that they can outrun a human is further reason not to get too close. Although statistically the most dangerous of Africa's big animals, the risk is minimal unless you disturb them.
Let's face it, who'd hassle the hippo?
Keeping out of the water and away from its edge is the best way to avoid trouble.
After lunch we bumped into one of my favourite animals, the warthog. Fun to watch due to their grumpy attitude and frankly bizarre appearance, warthog are one of nature's strangest.
'Lemmy' here is a particularly handsome specimen, don't you think?
Warthog are at their weirdest when eating grass. In what appears to be an oversight from nature they have short necks but quite long necks, meaning that they have to kneel down to feed. They have adapted by developing special kneepads for this purpose.
Members of the pig family, they can move fast; if necessary they can run at speeds of up to 55 km an hour. You will often see warthogs with birds on their backs; a mutually beneficial agreement through which the birds eat parasites that live on their bodies.
We then met another vehicle on our drive and the guide and driver told us that wild dog had been seen in the area. It was more likely that we would see them later in the day when they prefer to hunt, but we pushed on to see if we could find any tracks.
Sure enough, Kenny soon found the evidence and it appeared that the pack was working an area near the river where we had seen the crocodile.
We decided to return later to see if we got lucky – the African wild dog is an endangered species and one that most safari-goers have high on their list – myself included. I've yet to see one and was very excited by the prospect.
But it was time to escape the heat now so we left the reserve and headed back to the lodge for a rest – and to watch another herd in the water.
I returned to the room for a welcome shower after which it was beer o'clock.
In case you were wondering, Namibian beer is very popular in Botswana (Windhoek being the capital of Namibia).
Around 1630 we climbed aboard our trusty Toyota once more for the final proper game drive of our Botswana safari. The plan was to spend the time searching for wild dog and then enjoy a sundowner at, er, sundown before returning to the lodge.
With the light perfect as it often as at this time of the day we drove along the river once more, pausing to photograph a majestic fish eagle in a tree on the Moremi side of the water.
Entering the area where the wild dog had been seen, we soon found that word had got around. Two other vehicles were also on the hunt, and we swapped information and tips each time we met.
After circling around a thick wooded area it became clear that the dogs were hunting and being followed by hyena. We saw the latter on a number of occasions and heard the former, but seemed to just miss them each time.
It was really exciting and I could feel a rush of adrenaline as we tried to find the dogs but before long the light began to fade. We realised that today was not going to be our day, but it was fun trying and is always good to have a goal for the next safari…it was also wonderful to see hyena so close, too.
We made for the river and cracked open the gin to toast the end of an all-too-brief but absolutely fantastic safari in Botswana – and were rewarded with a spectacular sunset.
After packing up and heading back to the lodge in the darkness it was time for dinner and to reflect on our experiences in Botswana.
We had an early start the next day for our drive back to Maun and the flight to Johannesburg at noon, and I still needed to pack. Our whole group retired early, none of us with the slightest idea of what awaited us the next day…
Waking at sunrise for a last big breakfast, we then loaded the trailer and took our seats for the journey to Maun.
Kenny advised us to keep our cameras ready and our wits about us as we would be driving through the bush for several hours and it was highly likely that we would encounter animals. I'm very glad I listened to him…
After saying our goodbyes to the owners and staff of Hyena Pan Lodge we set off along the sandy track through the mopane forest.
About fifteen minutes into the journey Kenny stopped the car to point out fresh lion tracks crossing the 'road'.
"They have probably been out hunting and are now resting somewhere in the woods. Keep your eyes open as you might be able to see them. Oh, there they are!"
Sure enough, just a few metres away, right next to the track, two big male lion were sitting in the shade.
Kenny drove right up to them and it was then that we saw that they were not alone. There were five of them!
Two were fast asleep including one lying rather comically on its back with legs splayed…
Even as a child at the zoo I had never come this close to these beautiful animals. Kenny told us that as long as we remained in the vehicle and didn't make sharp movements or loud noises we were safe. He was right about that, too.
I'm sure you heard about the women who was killed in a South African 'lion park'. This is a completely different situation as it took place in an artificial environment in which lions connect humans with food. The bush is a natural environment and lions see a vehicle as an uninteresting, non-threatening non-food item. Anyone in the car is just part of that item.
Of course if you get out of the vehicle and thus break the outline you are in real danger – actually more than if you are out walking and come across a lion.
This is due to the fact that most animals have a "flight zone" and a "fight zone." If you enter the former – the large area around the animal then that animal will move away. But the fight zone is far smaller – is is the immediate area around the animal where the animal does not feel it can escape and will thus fight to protect itself.
If you meet a lion while walking in the bush and enter it's flight zone it will move away as lion generally avoid confronting humans. However, in a vehicle you will be ignored within the flight zone if it is used to cars (as lions are in game reserves – if not it will move away). But if you get out you are stepping right into the fight zone, surprising the lion since you bypassed its flight zone and it will almost certainly attack you.
So, stay in the vehicle and you'll be fine. Not only that, you'll be able to get close enough to see a lion become irritated by a dangling branch…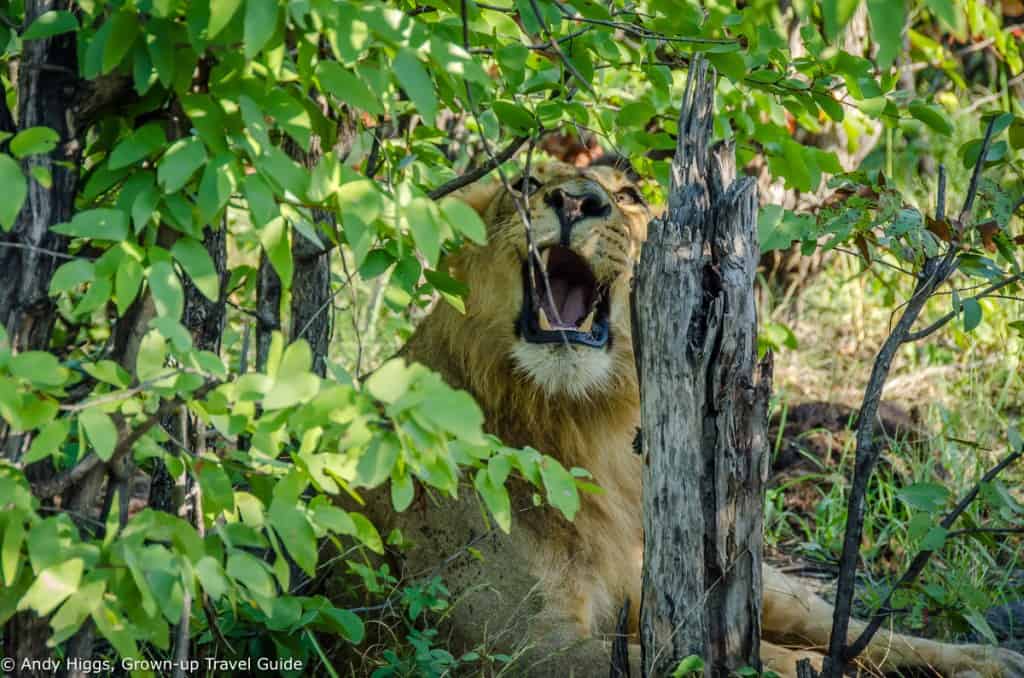 Looks kind of angry, doesn't he?
Well, it was making his ear itchy.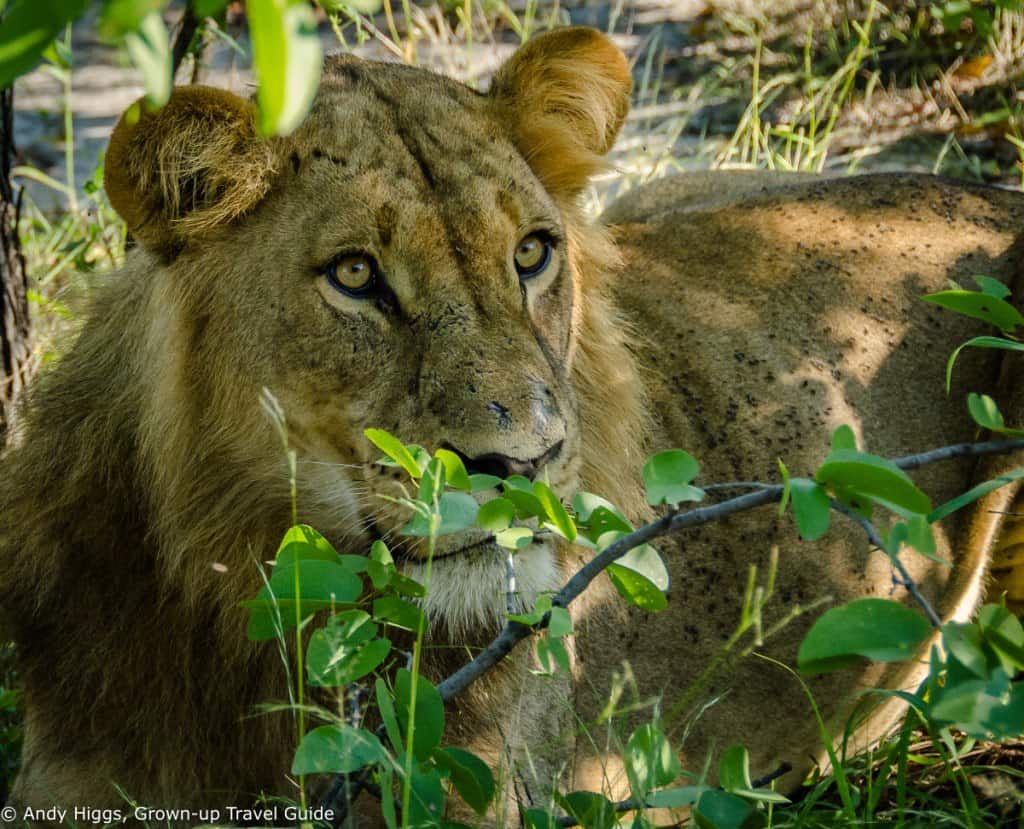 No matter how strong you feel the urge to cuddle one, don't even think about it.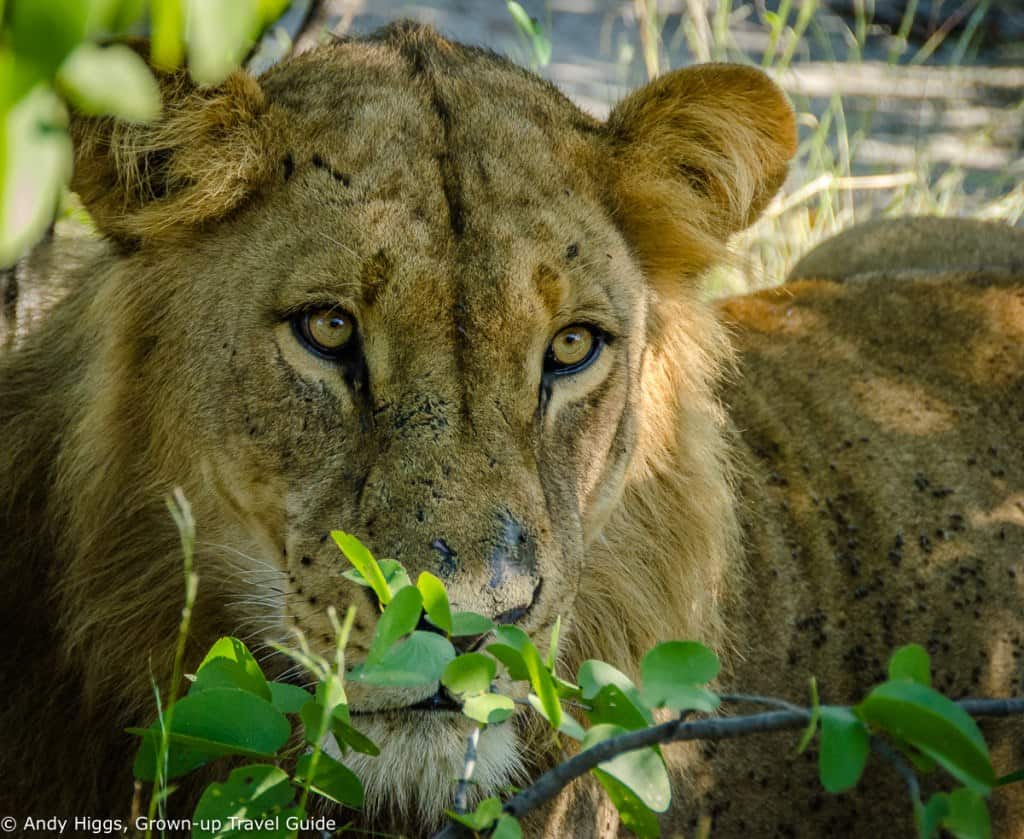 Even when he gives you that look.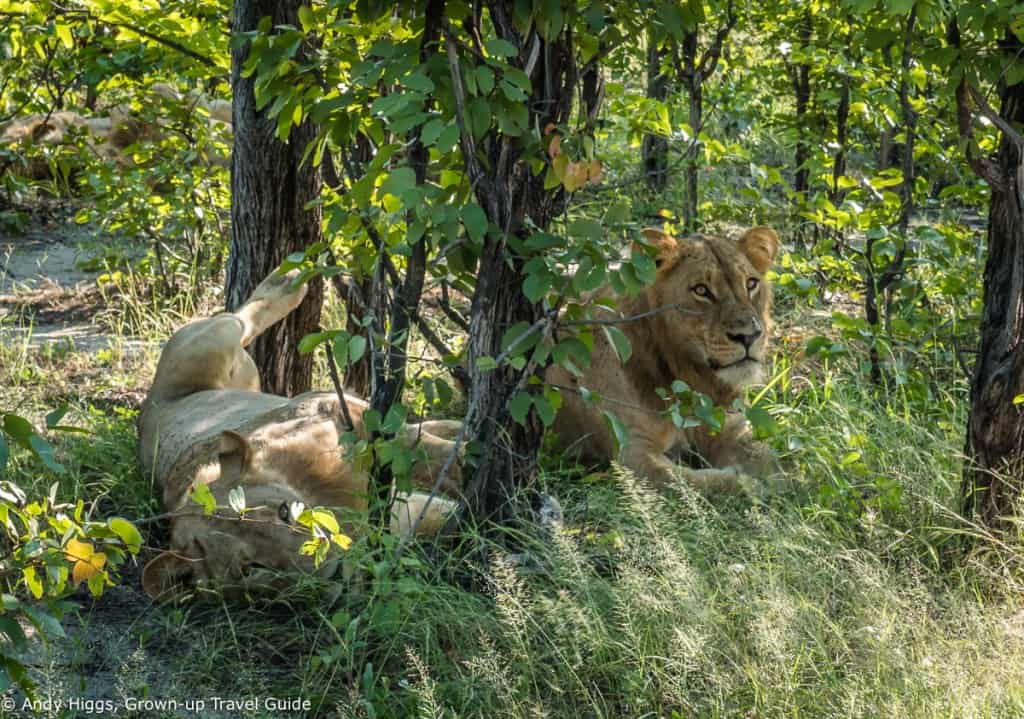 Or lies on his back like a big softy.
After half an hour observing these boys during which a ridiculous number of photos and minutes of video were shot by each member of our group, we had to leave them be as we had a plane to catch and a few hours to drive first.
Here is the film I captured of our last day in Botswana:
What an end to our safari!
Actually it wasn't quite the end as we later found our way blocked by a large elephant, who performed nicely for us (also on the video).
We stopped in Maun for a picnic lunch at a campsite before driving to the airport for the Air Botswana flight to Johannesburg.
Botswana, what can I say?
My time in the country was far too short, but enough to make me realise just why the experts all agree that Botswana is the ultimate safari destination. This should be clear to you too after reading these articles.
The concept of high-cost, low-impact tourism really works but this doesn't mean that it is out of the reach of the average visitor either, as there are companies like Sunway Safaris who can deliver a fabulous experience for the cost of two weeks in the Mediterranean.
On that subject…
Like what you've read? If you haven't already done so, sign up for our email newsletter (use the box on the right at the top of the page). You'll then be the first to hear about our small group tours where you can join me and Sunway Safaris in southern Africa – including everything here in Botswana and much more besides!